Cookie Monster
Spoon Cookies Recipe at Epicurious. Make dough: Fill kitchen sink with about 2 inches of cold water.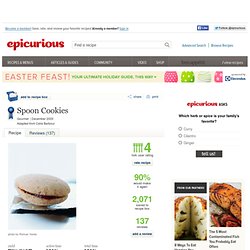 Melt butter in a 2- to 3-quart heavy saucepan over moderate heat and cook, stirring occasionally, until butter turns golden with a nutlike fragrance and flecks on bottom of pan turn a rich caramel brown, 10 to 12 minutes. (Butter will initially foam, then dissipate. A thicker foam will appear and cover the surface just before butter begins to brown; stir more frequently toward end of cooking.)
Place pan in sink to stop cooking, then cool, stirring frequently, until butter starts to look opaque, about 4 minutes. Remove pan from sink and stir in sugar and vanilla. Mean Cuisine - Super-Gooey Chocolate Chip Cookies. Ice Cream Chocolate Chip Cookies! Good Thursday everyone!!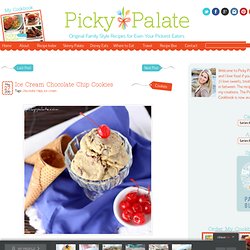 I am practically jumping out of my old computer seat dying to share my latest cookie with you :) A week or so ago as I was making the boys an ice cream shake, I started thinking…..hmmm I wonder how vanilla ice cream would work out in chocolate chip cookies? Well, can I just tell you it worked, and it's over the top INCREDIBLE! I used a creamy all natural vanilla ice cream by Breyers. I really think any vanilla ice cream would work just fine. Homemade Thin Mint Cookies. Recently, there had been a lot of talk about Girl Scout cookies, and those sweet, little girls standing at tables with stacks of cookie boxes are pretty hard to turn down.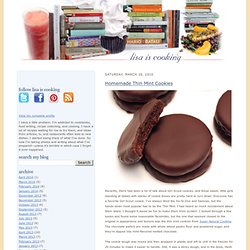 Everyone has a favorite Girl Scout cookie. I've always liked the Do-Si-Dos and Samoas, but the hands-down most popular has to be the Thin Mint. NYT Chocolate Chip Cookies. Perfection at Your Fingertips. Few things are worthy of a quest.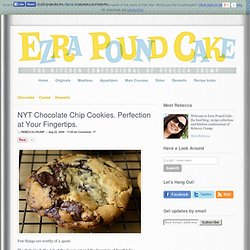 The Holy Grail, the Ark of the Covenant and the Fountain of Youth? No. Soft and Thick Sugar Cookies. These sugar cookies are similar to the Lofthouse sugar cookies you get at the grocery store.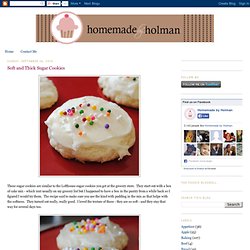 They start out with a box of cake mix - which isnt usually on my grocery list but I happened to have a box in the pantry from a while back so I figured I would try them. The recipe said to make sure you use the kind with pudding in the mix as that helps with the softness. They turned out really, really good. The Capitol Baker: Snickers Caramel Cheesecake Cookies. Back in high school I remember my mother trying out a fat free/sugar free cheesecake recipe she had found.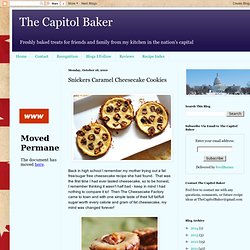 That was the first time I had ever tasted cheesecake, so to be honest, I remember thinking it wasn't half bad - keep in mind I had nothing to compare it to! Then The Cheesecake Factory came to town and with one simple taste of their full fat/full sugar worth every calorie and gram of fat cheesecake, my mind was changed forever!
Divine Baking: Chocolate Chubbies. BIY: Girl Scout Cookies. Samoas! Everything is DIY nowadays.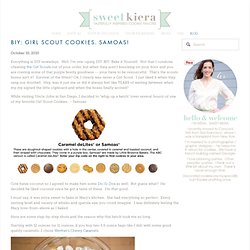 Well, I'm one-uping DIY. BIY: Bake it Yourself. Not that I condone cheating the Girl Scouts out of your order, but when they aren't knocking on your door and you are craving some of that purple boxity goodness -- your have to be resourceful. That's the scouts honor isn't it? Oreo Stuffed Chocolate Chip Cookies. Alright, confession time.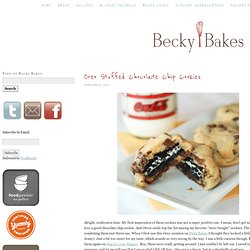 My first impression of these cookies was not a super positive one. I mean, don't get me wrong…I love a good chocolate chip cookie. And Oreos easily top the list among my favorite "store bought" cookies. The idea of combining them just threw me. When I first saw this Oreo creation on Picky Palate I thought they looked a little gross (sorry Jenny). A Quest for The Best Chocolate Chip Cookies. There is something uniquely heart warming about freshly baked chocolate chip cookies.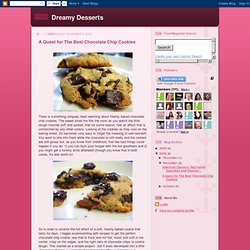 The sweet smell the fills the room as you watch the little dough mounds puff and spread, that for some reason, has an affect that is unmatched by any other cookie. Looking at the cookies as they cool on the baking sheet, it's becomes very easy to forget the meaning of self-restraint. You want to bite into them while the chocolate is still melty and the centers are still gooey but, as you know from childhood, that two bad things could happen if you do: 1) you can burn your tongue with the hot goodness and 2) you might get a tummy ache afterward (though you know that in both cases, it's well worth it)!
Candy Bar Chocolate Chip Cookie Sandwiches. Candy Bar Cookies?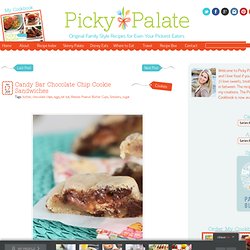 Have I gone mad? Well, no but was craving some chocolate….sorry for those of you who are so good and still dieting. Chocolate Chip Cookie Dough + Cupcake = The BEST Cupcake. Ever. Recipe.
---