Chicken
Kung Pao Chicken Recipe. Here's the recipe you all might have been waiting for – the legendary Kung Pao Chicken!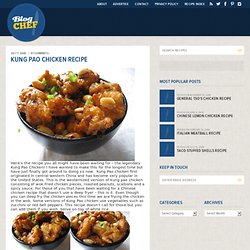 I have wanted to make this for the longest time but have just finally got around to doing so now. Kung Pao chicken first originated in central-western China and has become very popular in the United States. This is the westernized version of kung pao chicken consisting of wok fried chicken pieces, roasted peanuts, scallions and a spicy sauce. Chicken with 40 Cloves of Garlic. We all have favorite food smells that trigger memories.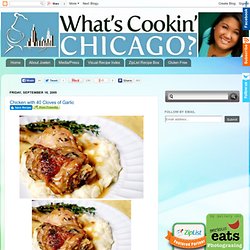 Some are good, some are bad... and some are just ones we've grown accustomed to as the norm. One of my favorite smells in the whole world is of onions and garlic sauteing in oil. This is how my mom started about 95% of the savory ethnic dishes she made. Honey Sesame Chicken. Sesame chickens are a very popular restaurant or take out dish.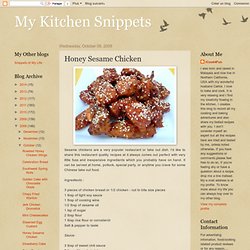 I'd like to share this restaurant quality recipes at it always comes out perfect with very little fuss and inexpensive ingredients which you probably have on hand. It can be served at home, potluck, special party, or anytime you crave for some Chinese take out food. Ingredients : 3 pieces of chicken breast or 1/2 chicken - cut to bite size pieces 1 tbsp of light soy sauce 1 tbsp of cooking wine 1/2 tbsp of sesame oil 1 tsp of sugar 2 tbsp flour 1 tbsp rice flour or cornstarch Salt & pepper to taste.
---