Pie and Cheesecake
Christopher Kimball's Favorite Test-Kitchen Discovery: Foolproof Pie Dough - Recipes. ~Apple Pie Cookies. You know when you bake an Apple Pie, or any fruit pie for that matter, and you get those oozy baked sugar, chewy-ish bits of leaked fruit that gets all caramelized to the crust?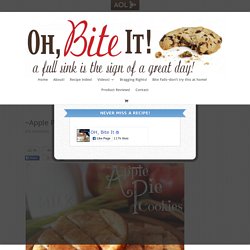 They're kind of hard to explain..I think they need a name, I'm open to suggestions! Watch them being made right >>HERE! Anyway, that's my absolute favorite part of a fruit pie! How great are those sticky little chewy bites..omgosh?! S'mores Pie. This may be a bit ridiculous.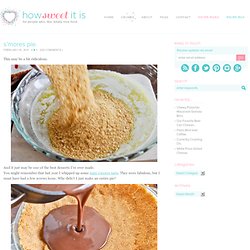 And it just may be one of the best desserts I've ever made. You might remember that last year I whipped up some mini s'mores tarts. They were fabulous, but I must have had a few screws loose. Why didn't I just make an entire pie? Oh! Cheesecake Stuffed Strawberries. What? Yes! - SugarBlog - SugarDerby. Um... ok.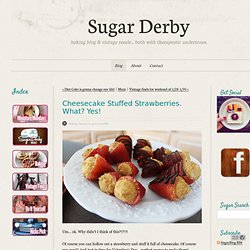 Why didn't I think of this?!?!?! Of course you can hollow out a strawberry and stuff it full of cheesecake. Of course you can!!! And just in time for Valentine's Day... perfect excuse to make them! Pumpkin Pie Cheesecake. December 13th, 2009 by katie We couldn't decide between cheesecake or pumpkin pie and while I would generally just make both, Pumpkin Cheesecake just seemed like the perfect solution!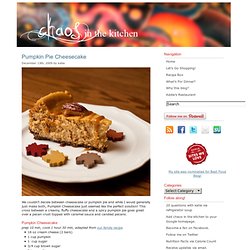 This cross between a creamy, fluffy cheesecake and a spicy pumpkin pie goes great over a pecan crust topped with caramel sauce and candied pecans. Pumpkin Cheesecake 16 oz cream cheese (2 bars)1 cup pumpkin1 cup sugar3/4 cup brown sugar2 tsp vanilla3 eggs3 tbsp cornstarch1 tbsp pumpkin pie spice1 1/2 cups whipping cream1/2 tsp salt2 tbsp lemon juicepecan crust or graham cracker crust prepared in a 10 inch springform panPrepare crust in a large spring form pan. Preheat oven to 325°F.Using a stand mixer or high power hand mixer, cream the cream cheese, pumpkin, sugars, and vanilla together.With mixer running add eggs one at a time, fully incorporating each one before adding the next. Pumpkin Spice & White Chocolate Cheesecake + Two Variations. You've heard the saying, "Necessity is the mother of invention."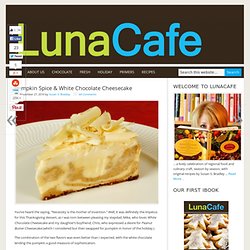 Well, it was definitely the impetus for this Thanksgiving dessert, as I was torn between pleasing my stepdad, Mike, who loves White Chocolate Cheesecake and my daughter's boyfriend, Chris, who expressed a desire for Peanut Butter Cheesecake (which I considered but then swapped for pumpkin in honor of the holiday.) The combination of the two flavors was even better than I expected, with the white chocolate lending the pumpkin a good measure of sophistication.
The only aspect of this dessert that gave me pause was marbling the two cheesecake batters. Spiced pumpkin pie plus. Why buy a boring supermarket pie?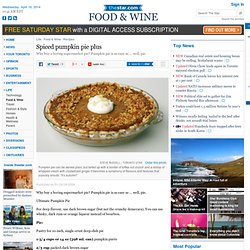 Pumpkin pie is as easy as ... well, pie. For deep flavour, use dark brown sugar (but not the crunchy demerara). Six Decorative Pie Edge Techniques. Six Decorative Pie Edge Techniques By The Paula Deen Test KitchenHow To: Six Decorative Pie Shell Edges to Inspire Put your forks away!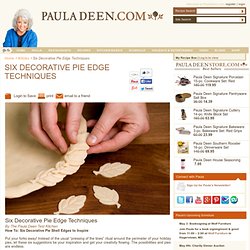 Caramel Tart-Caramel Tarts-Chocolate Tart-Chocolate Tarts-Pasta Frolla. Posted by Grace Massa Langlois on Friday, 8th July 2011 When I finally decided on Lemon Meringue Tarts for the holiday weekend I knew I would have to offer another choice because not everyone in my family is a fan of citrus desserts.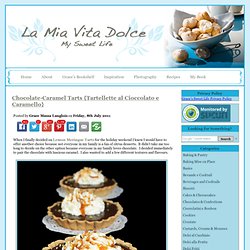 It didn't take me too long to decide on the other option because everyone in my family loves chocolate. I decided immediately to pair the chocolate with luscious caramel. I also wanted to add a few different textures and flavours. I present to you pure indulgence, Chocolate-Caramel Tart – crispy, hazelnut sweet short pastry with four layers of goodness – caramel, toasted hazelnuts, dark and milk chocolate ganache, and milk chocolate glaze. Two-Bite Strawberry Hand Pies. This post comes to you from damply beautiful Seattle, Washington!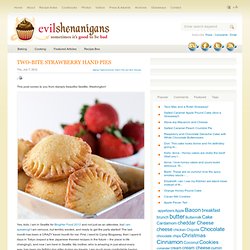 Yes, kids, I am in Seattle for BlogHer Food 2012 and not just as an attendee, but I am speaking! I am nervous, but terribly excited, and ready to get the party started! The last month has been a CRAZY travel month for me. Strawberry Strawberry Cheesecake | Baking is Hot. Zebra cake recipe, Zebra Cheesecake recipe. You know the story - girl meets recipe and falls in love after seeing recipe across the crowded internet.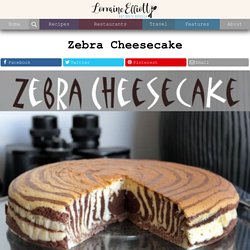 The recipe looks a bit different from what she is used to so girl is instantly intrigued. After the first tempting glimpse, girl can't get recipe out of her mind. Caramel Brownie Cheesecake. This is a monkeyhead concoction so please don't be disappointed with me that it's not 100% homemade. Sometimes as a mom you have to go with your childrens ideas in order to lift their creative wings.
Monkey One loves cheesecake and caramel, Monkey Two has a passion for brownies you put the two of these knuckleheads together and look at what they come up with… Caramel Brownie Cheesecake. You gotta love the way these boys think. To see their vision come to fruition we used one of our favorite brownie mixes, a no bake white chocolate cheesecake recipe from Williams-Sonoma and we tried Jamie's homemade caramel recipe from My Baking Addiction. Recipe: Apple crisp. Deep Dark Chocolate Cheesecake Recipe at Epicurious. Photo by Brian Leatart yield Makes 12 servings In the '80s and early '90s, chocolate cheesecake was at the top of our list. The simple ingredients in this rich, dense version let a good boutique chocolate shine. Boston Cream Pie Minis Recipe.
Real Women of Philadelphia. Elle's New England Kitchen - Elle's New England Kitchen - Fresh Blueberry Pie. I know, every homemade pie is fresh--but in this one, the fruit stays fresh, too. Yes, that's right! In this pie, there are five cups of blueberries, and only one cup of them are actually cooked. What you're left with is a blueberry pie that is just bursting with fresh, juicy berries! It's like eating a slice of fresh blueberries packed onto a delicious crust. White chocolate cheesecake with dark chocolate sauce  
Dessert anyone? Fast Ed bakes up a scrumptious cheesecake. Yummy! Ingredients 1 pkt Scotch Finger biscuits 4 Tbsp melted butter 750g cream cheese 8 eggs 220g sugar 250g white chocolate, chopped 150ml cream 150g dark chocolate Extra 150ml cream. Lime Squares with Pistachio Graham-Cracker Crust. The Baker's Daughter: Polka dot cheesecake. Classic Pecan Pie.
Toll House Pie Recipe.
---