Pesto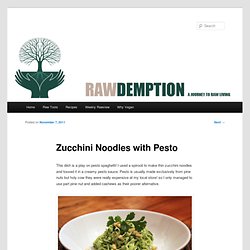 This dish is a play on pesto spaghetti! I used a spirooli to make thin zucchini noodles and tossed it in a creamy pesto sauce. Pesto is usually made exclusively from pine nuts but holy cow they were really expensive at my local store! so I only managed to use part pine nut and added cashews as their poorer alternative.
Zucchini Noodles with Pesto |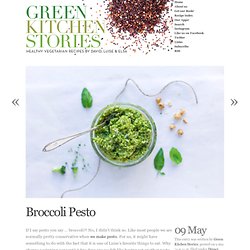 © 2011 Green Kitchen Stories If I say pesto you say … broccoli?! No, I didn't think so. Like most people we are normally pretty conservative when we make pesto . For us, it might have something to do with the fact that it is one of Luise's favorite things to eat. Why change a winning concept?
Say 'Yes' to Pesto
The following article was written by Keegan Baur. Spring is upon us, and I, for one, am so ready for warm weather. This past weekend, I wanted to cook a fresh and light dinner and decided to try the Avocado Pesto Pasta dish à la Chef Chloe .
Our apologies. The page or info you're looking for isn't here anymore, but don't stress. Here's what to do: Use the above search bar to find what you're looking for. If you typed the link url, double check it. Who doesn't have a million things going on?