Mac and Cheese
Green Mac and Cheese. Mac and cheese is the ultimate comfort meal for Mandi and me.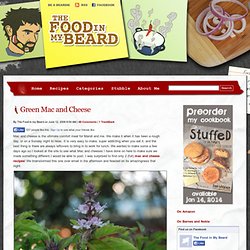 We make it when it has been a rough day, or on a Sunday night to relax. It is very easy to make, super addicting when you eat it, and the best thing is there are always leftovers to bring in to work for lunch. We wanted to make some a few days ago so I looked at the site to see what Mac and cheeses I have done on here to make sure we made something different I would be able to post. I was surprised to find only 2 (full) mac and cheese recipes!
A Healthy Mac & Cheese That Doesn't Taste Like Cardboard. After reviewing the Flat Belly Diet!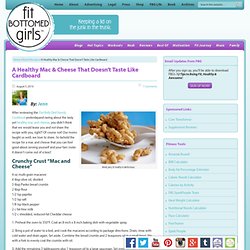 Family Cookbook yesterdayand raving about the tasty yet healthy mac and cheese, you didn't think that we would tease you and not share the recipe with you, right?! Of course not! Our moms taught us well; we love to share. Mac and Cheese. I am *in love* with this simple, no-frills mac and cheese. :) My granny used to make this all the time- she knew it was my favorite and always had it ready whenever I came to visit. :) It's a delicious quick-and-easy side dish- no fancy or unnecessary ingredients, just pure, unadulterated mac and cheese.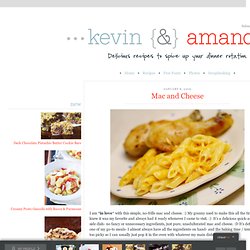 :D It's definitely one of my go-to meals- I almost always have all the ingredients on hand- and the baking time / temp isn't too picky so I can usually just pop it in the oven with whatever my main dish is. :) The ingredients: noodles, butter, salt, shredded cheese and milk Boil and drain noodles in salted water. Since it's just the two of us, I boiled 2 cups of penne pasta. Perfect Mac-n-Cheese « My Cooking Quest. November 13, 2008 by joejhorn A few weeks ago I started a quest for some good mac and cheese.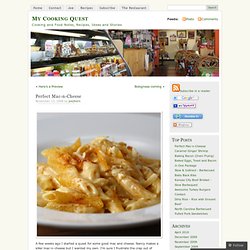 Nancy makes a killer mac-n-cheese but I wanted my own. Family-Favorite Macaroni and Cheese Recipe from Betty Crocker. Broccoli and White Cheddar Mac & Cheese « The Craving Chronicles. Mac & cheese.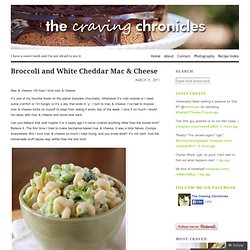 Oh how I love mac & cheese. It's one of my favorite foods on the planet (besides chocolate). Whenever it's cold outside or I need some comfort or I'm hungry or it's a day that ends in 'y', I turn to mac & cheese. Stove-top Macaroni and Cheese | Evil Shenanigans - Baking & Cooking Blog. Forget the boxes, the mixes, and don't even think of waiting an hour for macaroni and cheese on a week night.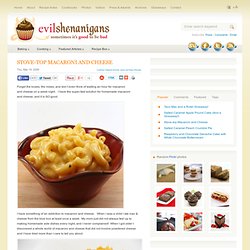 I have the super-fast solution for homemade macaroni and cheese, and it is SO good. I have something of an addiction to macaroni and cheese. Macaroni & Cheese. There's nothing that can be said.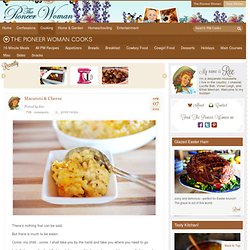 But there is much to be eaten. Come, my child…come. John Legend's Macaroni and Cheese. Turkey Day Troubles - Installment #2. I just finished reading a book (Cooking for Mr.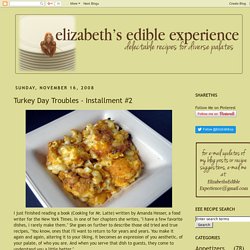 Latte) written by Amanda Hesser, a food writer for the New York Times. In one of her chapters she writes, "I have a few favorite dishes, I rarely make them. " She goes on further to describe those old tried and true recipes, "You know, ones that I'll want to return to for years and years. You make it again and again, altering it to your liking, it becomes an expression of you aesthetic, of your palate, of who you are.
---