Ice Cream
Frozen Greek yogurt recipe | vegetarian diet, vegetarian food for kids, vegetarian family, vegetarian teens, vegetarian recipe ideas, vegetarian nutrition | Veggie kids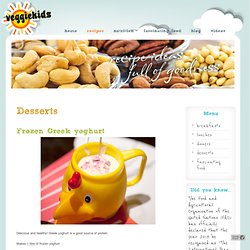 Delicious and healthy! Greek yoghurt is a good source of protein. Makes 1 litre of frozen yoghurt
Labor Day may mark the end of summer, but it does not mark the end of ice cream season. Every season is ice cream season (even winter). Since my Peanut Butter Cup Ice Cream was such a huge hit this summer, I wanted to share another variation I love, perhaps even more than peanut butter cup: No-Cook Egg-Free Nutella Ice Cream.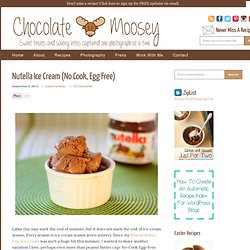 No-Cook Egg-Free Nutella Ice Cream | Chocolate Moosey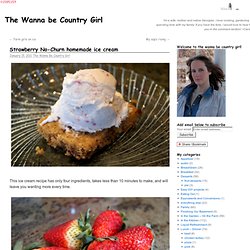 This ice cream recipe has only four ingredients, takes less than 10 minutes to make, and will leave you wanting more every time. Grab 5 fresh strawberries. You can use any fruit you like, or add 1 teaspoon vanilla extract and top with hot fudge. Wash and slice the fruit, then put it in a food processor. Add 1 tablespoon of sugar and pulse until the fruit is pureed.
Jun29 Not to sound full of myself, but I'm pretty sure this is the be all, end all of popsicle roundups. There's a little something for everyone: the foodies, the purists, the ones who prefer frozen yogurt, the ones who prefer a little alcohol, everyone.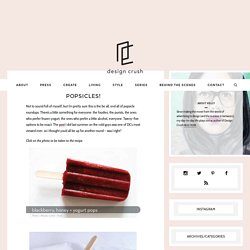 A sweet and tangy watermelon lime sorbet is a great way to cool off in the summer. As a bonus, this recipe is frozen back in the watermelon rind and cut off into slices. It's hot. The type of heat where when you step outside the door and your skin is wet before the door swings shut behind you.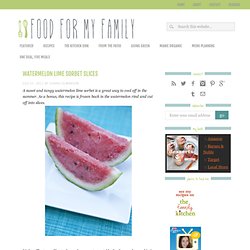 I have no idea who invented the raw banana ice cream, but he/she is a genius! I tried to check as many posts as possible about it and decided that the oldest one might be the inventor, or may be not, who knows and does it matter? So, I was able to find a youtube video dating from may 2007, a blog post dating from june 2009, frozen bananas ice cream maker (can you believe that!) and a wikipedia article saying that hundreds of years ago the ancient people used to eat frozen fruits for dessert. As for me, I saw it for the first time a couple of days ago at this bulgarian raw food blog. So, finding the truth is up to you if you care and the marvelous taste of the raw banana ice cream to all of us :)