Fudge and Bars
Cookie Dough Cheesecake Bars | The Angieriver Show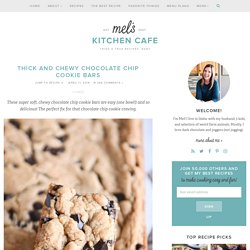 Thick and Chewy Chocolate Chip Bars
I am just returning from a sudden out-of-town trip and my house and children are overloaded with needs I must attend to.
Lemon Bars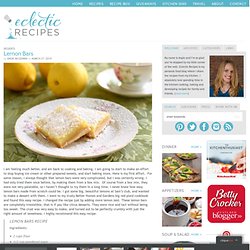 I am feeling much better, and am back to cooking and baking.
Holiday Bark Series: Mint Chocolate Chip Bark
Who wants more bark recipes? Yo, I got one, how about cool mint in a chocolate bark? Adding to that is a crunchy layer of chocolate wafers in between the dark chocolate and the minty white chocolate. Finishing it all off is a heavy sprinkling of crushed Andes Mint Chocolate.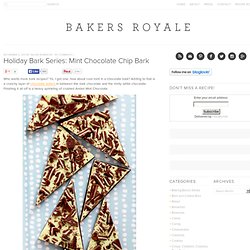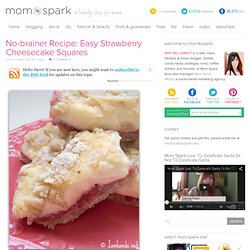 No-brainer Recipe: Strawberry Cheesecake Squares
Cheesecake Squares are a great recipe for when you don't have tons of time to make a proper cheesecake, or if you only have one block of cream cheese in the fridge and can't make it to the store to buy any more.
Christmas Cookies: Christmas Bar Cookie Recipes - Martha Stewart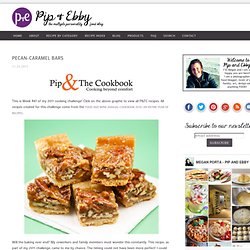 Pecan-caramel bars
This is Week #47 of my 2011 cooking challenge! Click on the above graphic to view all P&TC recipes. All recipes created for this challenge come from the Food and Wine Annual Cookbook 2010: An Entire Year of Recipes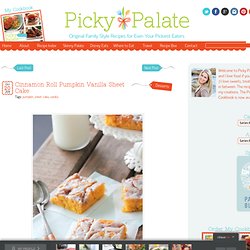 I love watching the reaction of my boys sampling my baked goods. I gave them a bite after school a couple days ago and it was priceless. If I left the room, I am afraid the entire plate would have been devoured.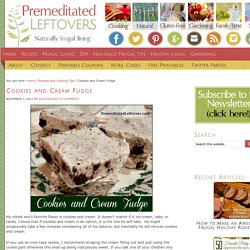 Thanks for visiting! If you are new here, you can subscribe to Premeditated Leftovers by the RSS feed or by email , so you don't miss a recipe or money saving article. My oldest son's favorite flavor is cookies and cream. It doesn't matter if it ice-cream, cake, or candy. I know that if cookies and cream is an option, it is the one he will take. He might occasionally take a few minutes considering all of his options, but inevitably he will choose cookies and cream.
Cookies and Cream Fudge | Premeditated Leftovers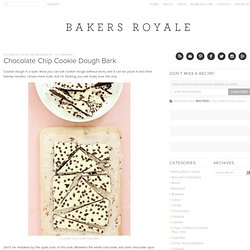 Cookie dough in a bark. Now you can eat cookie dough without worry and it can be yours in less than twenty minutes. I know more bark, but I'm thinking you will really love this one.
For the brownie base: 3/4 cups flour 1/2 teaspoon salt 1 tablespoon dark unsweetened cocoa powder (like Valrhona) 5 ounces good quality dark chocolate (60 to 72%), coarsely chopped 1/2 cup (1 stick) butter, cut into 1 inch cubes 3/4 cups sugar 1/4 cup firmly packed light brown sugar 3 large eggs, at room temperature 1 teaspoons vanilla extract For the buttercream: 3/4 cups sugar 2 tablespoons flour 3/4 cup milk 2 tablespoons heavy cream 1 1/2 sticks (3/4 cup) butter, softened but still cool, cut into small cubes 3 tablespoons creme de menthe 1 teaspoon peppermint extract For the chocolate glaze: 6 ounces good-quality dark chocolate (60 to 72%), coarsely chopped 1 teaspoon light corn syrup 1/2 cup (1 stick) unsalted butter, softened, cut into cubes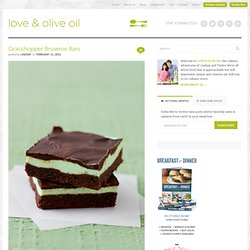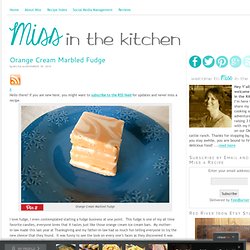 Orange Cream Marbled Fudge – Miss in the Kitchen
Orange Cream Marbled Fudge I love fudge, I even contemplated starting a fudge business at one point. This fudge is one of my all time favorite candies, everyone loves that it tastes just like those orange cream ice cream bars. My mother-in-law made this last year at Thanksgiving and my father-in-law had so much fun telling everyone to try the new cheese that they found.
I don't say this very often. But this is one of the most delicious things I've ever eaten. Remember how I made dense, fudgy brownies by using a boxed chocolate cake mix? Well, let's just say that I haven't been able to stop imagining doing the same with a yellow cake mix ever since.
The temperature has inspired me to post some cold-weather recipes. This fudge recipe fits the bill nicely. 7 reasons I love this fudge 1. It tastes divine 2. It uses all nourishing ingredients 3.
Cider mills , apples , cinnamon, doughnuts , sweaters, jeans, boots, leaves, football, tailgate parties , pies , soups , stews , chili ...those are what come to mind when I think of fall. The air turns nice and crisp and I am immediately reminded of fall in Michigan, with all of the beautiful leaves and the perfect weather to leave the house wearing jeans, a sweater, cute boots and a scarf. My all-time favorite outfit.