Fudge and Bars
Cookie Dough Cheesecake Bars | The Angieriver Show. Thick and Chewy Chocolate Chip Bars. I am just returning from a sudden out-of-town trip and my house and children are overloaded with needs I must attend to.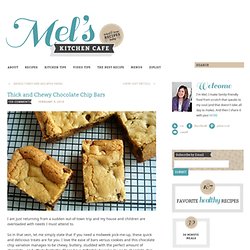 So in that vein, let me simply state that if you need a midweek pick-me-up, these quick and delicious treats are for you. I love the ease of bars versus cookies and this chocolate chip variation manages to be chewy, buttery, studded with the perfect amount of chocolate…and utterly fantastic. These have definitely become my go-to chocolate chip blondie bar and I hope you love them as much as we do. Lemon Bars. I am feeling much better, and am back to cooking and baking.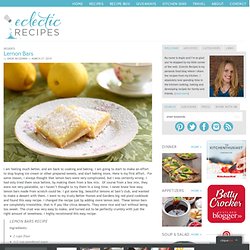 I am going to start to make an effort to stop buying ice cream or other prepared sweets, and start baking more. Here is my first effort. For some reason, I always thought that lemon bars were very complicated, but I was certainly wrong. Holiday Bark Series: Mint Chocolate Chip Bark. Who wants more bark recipes?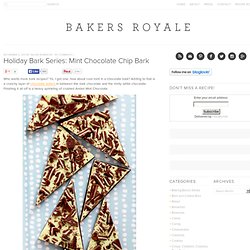 Yo, I got one, how about cool mint in a chocolate bark? Adding to that is a crunchy layer of chocolate wafers in between the dark chocolate and the minty white chocolate. Finishing it all off is a heavy sprinkling of crushed Andes Mint Chocolate. No-brainer Recipe: Strawberry Cheesecake Squares. Cheesecake Squares are a great recipe for when you don't have tons of time to make a proper cheesecake, or if you only have one block of cream cheese in the fridge and can't make it to the store to buy any more.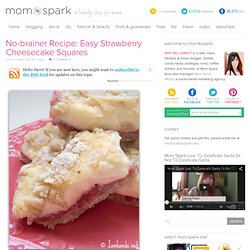 Cheesecake purists can omit the jam from the recipe with no other changes. I enjoyed the jam in these squares, but next time around I'm going to go the purist route. Ready for the recipe? Yield: one 8" x 8" pan, 16 squares. Christmas Cookies: Christmas Bar Cookie Recipes - Martha Stewart. Pecan-caramel bars. This is Week #47 of my 2011 cooking challenge!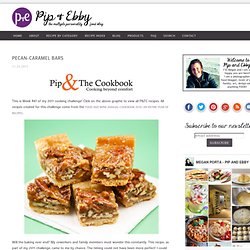 Click on the above graphic to view all P&TC recipes. All recipes created for this challenge come from the Food and Wine Annual Cookbook 2010: An Entire Year of Recipes. Cinnamon Roll Pumpkin Vanilla Sheet Cake. I love watching the reaction of my boys sampling my baked goods.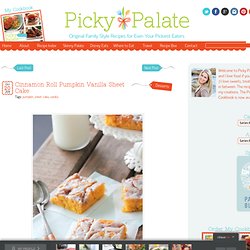 I gave them a bite after school a couple days ago of this sheet cake and their expression was priceless. If I left the room, I am afraid the entire plate would have been devoured. Cookies and Cream Fudge | Premeditated Leftovers. Chocolate Chip Cookie Dough Bark. Cookie dough in a bark.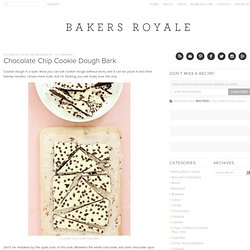 Now you can eat cookie dough without worry and it can be yours in less than twenty minutes. I know more bark, but I'm thinking you will really love this one. Grasshopper Brownie Bars. For the brownie base: 3/4 cups flour 1/2 teaspoon salt 1 tablespoon dark unsweetened cocoa powder (like Valrhona) 5 ounces good quality dark chocolate (60 to 72%), coarsely chopped 1/2 cup (1 stick) butter, cut into 1 inch cubes 3/4 cups sugar 1/4 cup firmly packed light brown sugar 3 large eggs, at room temperature 1 teaspoons vanilla extract For the buttercream: 3/4 cups sugar 2 tablespoons flour 3/4 cup milk 2 tablespoons heavy cream 1 1/2 sticks (3/4 cup) butter, softened but still cool, cut into small cubes 3 tablespoons creme de menthe 1 teaspoon peppermint extract For the chocolate glaze: 6 ounces good-quality dark chocolate (60 to 72%), coarsely chopped 1 teaspoon light corn syrup 1/2 cup (1 stick) unsalted butter, softened, cut into cubes.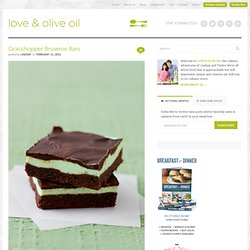 Orange Cream Marbled Fudge – Miss in the Kitchen. Orange Cream Marbled Fudge I love fudge, I even contemplated starting a fudge business at one point.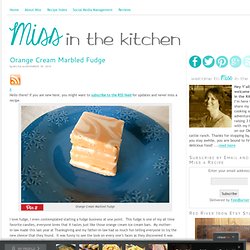 This fudge is one of my all time favorite candies, everyone loves that it tastes just like those orange cream ice cream bars. My mother-in-law made this last year at Thanksgiving and my father-in-law had so much fun telling everyone to try the new cheese that they found. Cake batter blondies. | girl meets life. I don't say this very often.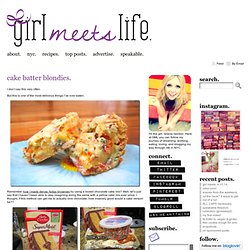 But this is one of the most delicious things I've ever eaten. Remember how I made dense, fudgy brownies by using a boxed chocolate cake mix? Well, let's just say that I haven't been able to stop imagining doing the same with a yellow cake mix ever since. Recipe: The Easiest, Healthiest, Most Scrumptious Fudge Ever. The temperature has inspired me to post some cold-weather recipes. This fudge recipe fits the bill nicely. 7 reasons I love this fudge 1. It tastes divine 2. It uses all nourishing ingredients 3. Pumpkin Bars with Cream Cheese Frosting. Cider mills, apples, cinnamon, doughnuts, sweaters, jeans, boots, leaves, football, tailgate parties, pies, soups, stews, chili...those are what come to mind when I think of fall. The air turns nice and crisp and I am immediately reminded of fall in Michigan, with all of the beautiful leaves and the perfect weather to leave the house wearing jeans, a sweater, cute boots and a scarf.
My all-time favorite outfit.
---