Fruity
Pomegranate-Champagne Punch. Top 5 Summer Cocktails. Summer is nearly here, what are some of the great summer cocktails for you to enjoy on this war sunny days?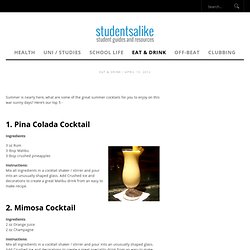 Here's our top 5 - Ingredients 3 oz Rum 3 tbsp Malibu 3 tbsp crushed pineapples. Strawberry And Peach Sangria Recipe from Bon Appétit. Servings:Makes 8 servings prep time: 15 minutes.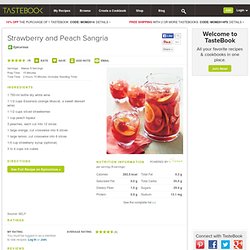 50 Summer Drinks : Recipes and Cooking. 1.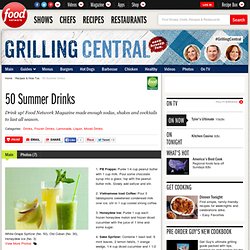 PB Frappe: Purée 1/4 cup peanut butter with 1 cup milk. Pour some chocolate syrup into a glass; top with the peanut-butter milk. Slowly add seltzer and stir. 2. Vietnamese Iced Coffee: Pour 3 tablespoons sweetened condensed milk over ice; stir in 1 cup cooled strong coffee. Raspo-Lemo-Limeade Recipe : Guy Fieri. Traditional Sangria Recipe : Emeril Lagasse. Summer Fruit Sangria. Frozen Coconut Limeade. Pink Gin Fizz. Watermelon Limeade. Watermelon-Cucumber Cooler.
---