Fruity
Pomegranate-Champagne Punch
Top 5 Summer Cocktails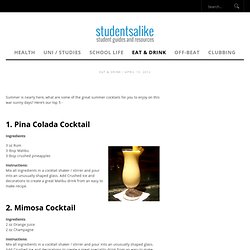 Summer is nearly here, what are some of the great summer cocktails for you to enjoy on this war sunny days? Here's our top 5 - Ingredients 3 oz Rum 3 tbsp Malibu 3 tbsp crushed pineapples
servings:Makes 8 servings prep time: 15 minutes
Strawberry And Peach Sangria Recipe from Bon Appétit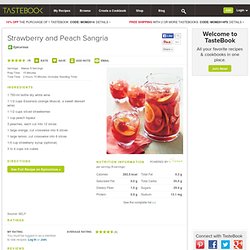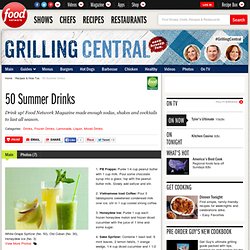 50 Summer Drinks : Recipes and Cooking
1. PB Frappe: Purée 1/4 cup peanut butter with 1 cup milk. Pour some chocolate syrup into a glass; top with the peanut-butter milk. Slowly add seltzer and stir. 2. Vietnamese Iced Coffee: Pour 3 tablespoons sweetened condensed milk over ice; stir in 1 cup cooled strong coffee.
Raspo-Lemo-Limeade Recipe : Guy Fieri
Traditional Sangria Recipe : Emeril Lagasse
Summer Fruit Sangria
Frozen Coconut Limeade gets me singing. Put the lime in the coconut and mix it all up? Or put the coconut in the lime and stir it all together? Nope, put the lime and the coconut in the blender and blend it all up.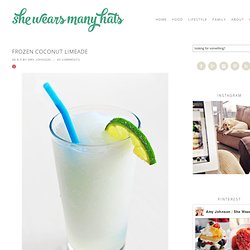 Frozen Coconut Limeade
Pink Gin Fizz
Watermelon Limeade
Watermelon-Cucumber Cooler