Twitter
Quelle doit être votre surprise en découvrant le nom de cet article ! Car nous le savons tous, des listes regroupant des outils pour agrémenter son utilisation de Twitter , il en existe des dizaines. J'ai pourtant entrepris la rédaction de ce billet avec pour idée de ne pas vous proposer "en vrac" des centaines de liens tous aussi inintéressants les un que les autres, plutôt une sélection d'outils pertinents , que je connais ou utilise pour leur qualité, et classés par type , afin de vous simplifier la vie. Vous retrouverez donc ci-dessous 40 outils classés dans 8 catégories (clients, outils de veille, outils de statistiques, raccourcisseurs d'url, outils de géolocalisation, applications pour mobiles, outils de partage et outils pratiques), qui je l'espère vous orienterons vers une utilisation plus large du site de microblogging. Je vous invite par ailleurs à conseiller vos propres coups de cœur sur cet article, et plus particulièrement dans les commentaires . Bonne lecture !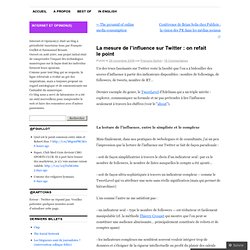 Un des trucs fascinants sur Twitter reste la faculté que l'on a à bidouiller des scores d'influence à partir des indicateurs disponibles : nombre de followings, de followers, de tweets, nombre de RT… Dernier exemple du genre, le TweetLevel d'Edelman qui a un triple mérite : explorer, communiquer sa formule et ne pas prétendre à lire l'influence seulement à travers les chiffres (voir le « about « ).
La mesure de l'influence sur Twitter : on refait le point « inte
Twitter Study by faberNovel & l'Atelier
10 useful Twitter presentations
"Twittorial for everyone with half a brain" | Citizen L. aka Lau
Rapport-veille-juillet2010public.pdf (Objet application/pdf)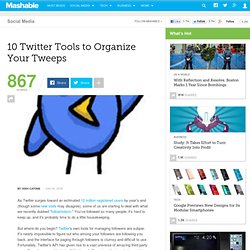 As Twitter surges toward an estimated 12 million registered users by year's end (though some new stats may disagree), some of us are starting to deal with what we recently dubbed " followholism ."