Data visualization
Charting The Beatles
[vidéo] Sexy statistics (en) » Article » OWNI, Digital Journalism
In these tough economic times, many designers find themselves applying for jobs and freelance gigs on a regular basis. So, how can we stand out from the rest and grab the attention of a design agency when they're usually bombarded with hundreds of applications? The best way to do this is in the design of your resume. Assuming that you have the skills that they're looking for, a striking and visually appealing resume will go a long way at getting you the creative job that you want. In the worst case scenario, it will at least buy you a few seconds by catching the eye of a recruiter and may become the difference between getting hired or not. In this article, we'll take a look at 30 creative resumes that can inspire you to think outside the box when designing your own resume.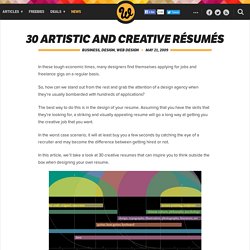 Radiohead Songs Chart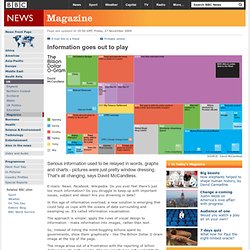 Serious information used to be relayed in words, graphs and charts - pictures were just pretty window dressing. That's all changing, says David McCandless. E-mails. News. Facebook. Wikipedia.
Ah, Twitter. It's impossible to get away from it; it seems that everyone stopped whatever they were doing B.T. (before Twitter) and switched to doing cool stuff for and around the service, and this includes data visualizations. In the past, we've profiled unique Twitter-related visualizations, but now we're after sheer beauty. And that's exactly what we've found; here are six gorgeous Twitter visualizations. Know of a beautiful Twitter visualization?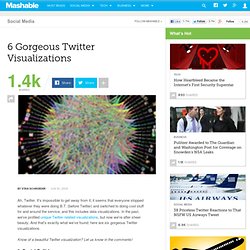 Le gif est simple. Le gif est efficace. Le gif est un format d'image visionnaire. Le gif allie exigence et élégance. Le gif est indispensable.