Urban foraging
The Fun of Urban Foraging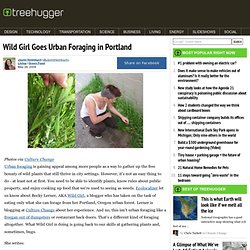 Wild Girl Goes Urban Foraging in Portland
Photos via Culture ChangeUrban foraging is gaining appeal among more people as a way to gather up the free bounty of wild plants that still thrive in city settings.
BBC NEWS | Talk about Newsnight | Urban foraging - ethical?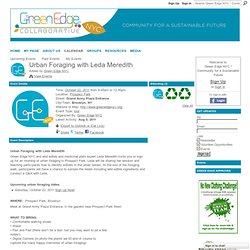 Urban Foraging with Leda Meredith
Urban Foraging with Leda Meredith - Green Edge NYC * Community for a Sustainable Future
urban foraging
Top 10 Ways to Forage in Los Angeles - Los Angeles Restaurants and Dining - Squid Ink
click to enlarge Willy Blackmore What's there to eat? Spring means many things in Southern California--the end of citrus season, the beginning of masses of bright green reappearing in local farmers' markets--but it is not associated with the food-gathering traditions long upheld elsewhere in the country.
Foraging The Weeds For Wild, Healthy Greens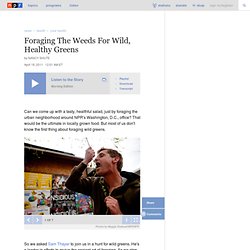 Can we come up with a tasty, healthful salad, just by foraging the urban neighborhood around NPR's Washington, D.C., office? That would be the ultimate in locally grown food. But most of us don't know the first thing about foraging wild greens.
Top 10 ways to forage for free food - Times Online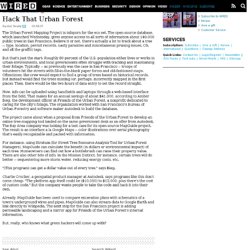 The Urban Forest Mapping Project is infoporn for the eco set. The open-source database, which launched Wednesday, gives anyone access to all sorts of information about 140,000 public trees in San Francisco.
Hack That Urban Forest
The modern harvest — Urban foragers share the wealth :: by Stephanie Beechem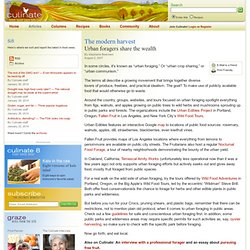 In some circles, it's known as "urban foraging."
Urban Foraging and Guerrilla Gardening
One trend that has really caught my interest lately (to the chagrin of certain hygiene-obsessed boyfriends) is urban foraging.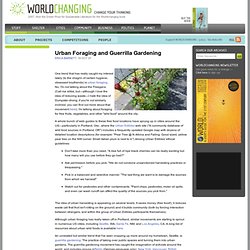 At Vacant Homes, Foraging for Fruit