Soupe
Zesty Red Lentil Tomato Soup | CaliZona Steph & Ang's Healthy Lifestyle and Adventures. This such a great comfort food soup!!!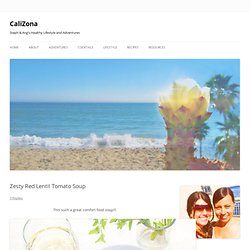 Make the Marinara Sauce and simmer In a soup pot add red lentils, rinse thoroughly and strain Add water to the pot, whole cloves of garlic and the bullion cubes then bring to a boil, reduce heat to medium for 30 minutes. Skinny Tomato Basil Soup — The Skinny Fork. Skinny Tomato Basil SoupTheSkinnyFork.com The Skinny:Servings: 6 • Size: 1 Cup • Calories: 96.6 • Fat: 2.5 g • Carb: 17.7 g • Fiber: 4.5 g • Protein: 2.8 g • Sugar: 9.3 g • Sodium: 897.1 mg Ingredients:1 Tbsp.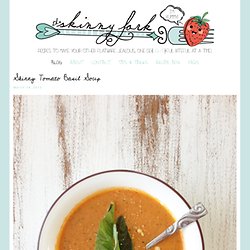 Extra Virgin Olive Oil1 Medium Onion, Diced3/4 C. Carrot, Shredded4 Cloves Garlic, Diced2 (14.5 Oz) Cans Diced Tomatoes, No Salt Added1 (14.5 Oz) Can Italian Style Diced Tomatoes2 C. Fat Free Reduced Sodium Chicken Broth1 Tbsp. Tomato Soup & Grilled Cheese Sandwiches | HungryHuy.com. I never thought I'd be craving a vegetable soup.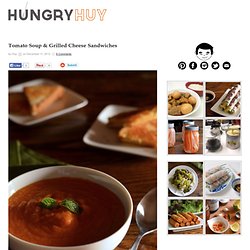 Until now. In fact, I have strong memories as a kid, really hating the taste of tomatoes. Tomatoes even in a burgers were crossing the line. Aigo Bouido- Provençal Garlic Cure-All Soup. Provençal Garlic Cure-All Soup The holiday season, as you undoubtedly have noticed, is well underway.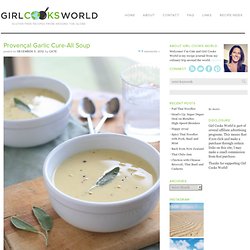 And with an ever-growing to-do list and seemingly less time to accomplish the tasks on said list, it's just about the worst time to feel under the weather. This soup is the just the ticket, whether you've indulged in one too many spiked eggnogs at the holiday party the night prior or you're in the beginning stages of a head cold, courtesy of your cubicle neighbor who REALLY should have just stayed home. It's very much peasant food, created from very simple ingredients, but the whole is greater than the sum of its parts. If you're looking for something excessively rich and indulgent, this isn't the soup for you (but I would encourage you to try this terrific garlic soup, made with butter and heavy cream).
Coconut Curry Squash Soup « fig & fork. When I first got to the Twin Cities I was enamored with co-ops.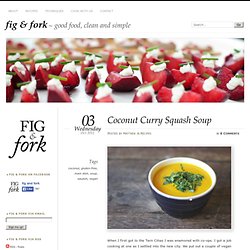 I got a job cooking at one as I settled into the new city. We put out a couple of vegan options alongside the other food in the hot bar everyday. It was all priced per pound….$7.99 a pound for ready-to-eat, hot organic food. Spicy Cream of Pumpkin (Red Hubbard) Soup with Crispy Prosciutto at Cooking Melangery. "September is like no otherIt's days change color and weatherNo other month can say quite the sameFor every day, I can feel the changeIt's cool breezes start out warm, Changing to cold throughout every stormThe leaves change and fall As the Summer leaves and Autumn kisses us allSeptember maidens feel the changeLike the blue of the skyYet the color so deepUnbelievable beauty...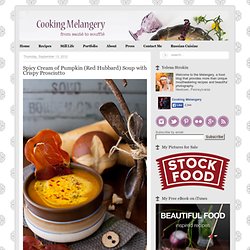 " by Jessica Millsaps Red Hubbard, Orange Hokkaido or Uchiki Kuri. A great sized mini Hubbard weighing 4-5 pounds. Roasted Sweet Potato and Quinoa Soup | | Noshing With The NolandsNoshing With The Nolands. We had a big beautiful sweet potato left over from making fries awhile back and I decided to make a soup also using quinoa.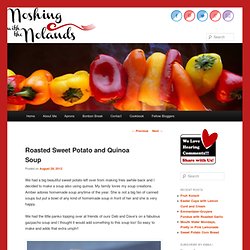 My family loves my soup creations. Amber adores homemade soup anytime of the year. Sweet Potato & Corn Southwestern Soup: A Recipe For Any Season. This Sweet Potato & Corn Southwestern Soup: A Recipe For Any Season came about because of my laziness.
I did not feel like going to the grocery store and opted to create a dish from the ingredients I already had in my refrigerator and freezer. Why is it perfect for any season? Well, right now you can use fresh corn, while in the winter frozen corn will be just fine. Chipolte Chicken Tortilla Soup...and getting our kicks on the epic...Rt 66! Reverse psychology is a fabulous parenting tool.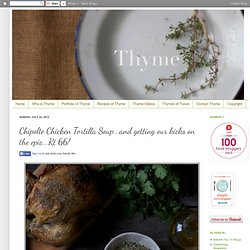 If I were a smarter mother, I would have employed this tool much more often than I have in my parenting years.Being a homeschool mom who has made it to the end of the high school years with one child (one to go!) Has taught me more life lessons than I could have indeed imagined.One is...a precise and tactical use of reverse psychology. Kollu Rasam, Kollu Sundal | Kollu Recipes. I have heard and read a lot about the health benefits of kollu(horsegram) so decided to include it our menu too.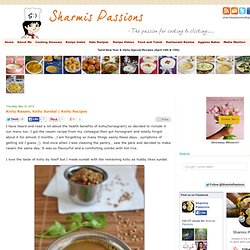 I got the rasam recipe from my colleague then got horsegram and totally forgot about it for almost 3 months...I am forgetting so many things easily these days...symptoms of getting old I guess ;). And once when I was cleaning the pantry , saw the pack and decided to make rasam the same day. It was so flavourful and a comforting combo with hot rice. Stephanie Izard's Tomato-Apple Soup. Chipotle Bean Soup with Bacon. Dinner Tonight: Black Bean Soup with Fried Egg. I recently ate a bowl of phenomenal black bean soup at Bonita in Brooklyn and I've been on the hunt for a good recipe since. The soup was rich and deep with a healthy punch of spice and a mouthwatering acidity, and topped with a fried egg.
It's easy to make black bean soup if you've recently cooked a pot of black beans from dry—the bean-cooking liquor is the perfect liquid base because it has all that body and flavor. But I wanted to find something that would taste great from canned black beans for a weeknight meal. Many Cuban recipes I found had a long list of ingredients, too many to fit the bill. In the end, I relied on a simple recipe from How to Cook Everything by Mark Bittman. Nordstrom's Tomato Basil Soup. [Photograph: Blake Royer] This is what my wife asked me to accomplish: a) Recreate the tomato soup from Nordstrom, and b) don't mess it up. In case you're not familiar with this soup, it's rather famous, ranked regularly on lists of Best Tomato Soup Ever, enjoying something of a cult following for those who love tomato soup.
And who doesn't? I'd be surprised to meet any American kid who doesn't have fond memories buried deep. Thankfully, there are recipes for it pretty easy to come by. Dinner Tonight: Tortilla Soup. [Photograph: Blake Royer] The real pleasures of tortilla soup come with the garnishes: the smooth coolness of avocado, the smoky chew of dried chiles, the burst of cilantro, the crunch of cabbage. Add all that to a golden, chickeny broth, tinged with tomatoes and the mellow heat of toasted chiles, and you have a restorative meal to last through these remaining weeks of winter doldrums. Though my standby has long been Rick Bayless's simple tortilla soup that's already appeared in this column, I'm always on the lookout for ideas. I adapted this from a little cookbook called Great Greens, which fulfills its promise here by adding spinach to finish the soup. (For a vegetarian version, add more spinach, remove the chicken, and switch to vegetable broth.)
20 Fall Soup Recipes We Love. Sunday Night Soups: Chestnut, Pumpkin, and Farro. The Crisper Whisperer: Quick Tortilla Soup. In the Crisper Featured Veg: TomatillosFlavor affinities: Lime, cilantro, tomatoes, green chilies, onion, garlicPrepare: Remove husk, wash wellCook: Dice and eat raw, simmer, roast The first time our CSA delivered tomatillos a few years ago I couldn't have been more excited. In retrospect, there's some chance that the excitement was actually more of a panic-stricken terror. I'd never cooked tomatillos before, and I had a hunch they were on their way to becoming the next "it" food after the swift demise of chipotles in adobo sauce.
(Still waiting for that one, by the way.) Dinner Tonight: Curried Squash and Apple Soup. The only reason I agreed to eat this soup is because Barbara Kafka was involved (and because the wife cooked it for me). It does take some time, but if a loved one decides to make it for you, then sit back and relax: good things await. Kafka is the matron of high heat. Here, she blasts the acorn squash, then cooks it with apples--a great combo. 30-Minute Black Bean Soup. Sherry-Garlic Soup with Smoked Paprika Six Ingredients (and Salt) | Apartment Therapy The Kitchn.
Roasted Apple and Winter Squash Soup | Apartment Therapy The Kitchn. Roasted Tomato and Thyme Soup | the sophisticated gourmet. Curried Lentil Soup Recipe | A Sweet Spoonful. How To Make French Onion Soup at Home | Apartment Therapy The Kitchn. Hot & Sour Mushroom, Cabbage, and Rice Soup | Apartment Therapy The Kitchn. Recipe for All: Curried Coconut Carrot Soup | Apartment Therapy The Kitchn. Best Simple Supper: Miso Soup with Rice & Poached Egg | Apartment Therapy The Kitchn.
---