29-02
Local Motion's electric cars target Silicon Valley HQs. 14 March 2012Last updated at 17:33 ET By Laura Locke Technology reporter, San Francisco Israeli President Shimon Peres tried out one of Local Motion's prototypes at a recent conference in San Francisco In an age when most Silicon Valley start-ups focus on creating software for web services or apps, newcomer Local Motion stands out for building a working prototype weighing 107 stone (680kg).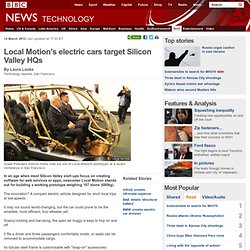 14-y-o Florida girl buys foreclosed house with money from Craigslist furniture-selling hobby. NPR's Planet Money profiles Willow Tufano, a 14-year-old Florida girl who saved thousands of dollars by harvesting furniture from foreclosed houses and selling it on eBay.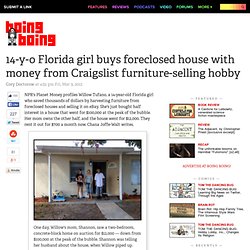 She's just bought half interest in a house that went for $100,000 at the peak of the bubble. Her mom owns the other half, and the house went for $12,000. They rent it out for $700 a month now. Chana Joffe-Walt writes, POD House » POD House. Stephen Cave - Stayin' alive. A group of American psychologists has discovered a simple way of turning ordinary people into fundamentalists and ideologues.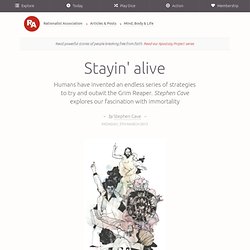 Their method requires neither indoctrination nor isolation nor any form of brainwashing; indeed, it can be done anywhere and in a matter of minutes. It is just this: the researchers remind these ordinary folks that they will one day die. In one experiment, for example, the psychologists asked a group of Christian students to give their impressions of the personalities of two people. SOLIPSIST. At SXSW, homeless people become WiFi hotspots. [Video Link] Over the weekend, I noticed that David Gallagher of The New York Times observed in Austin, "Homeless people have been enlisted to roam the streets wearing T-shirts that say 'I am a 4G hotspot."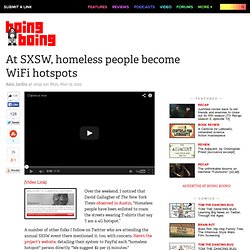 A number of other folks I follow on Twitter who are attending the annual SXSW event there mentioned it, too, with concern. China: 30-story prefab skyscraper built in two weeks. Of course it's safe! In Changsha, China, a 30-story hotel project went from blueprint and prefab parts to finished building in fifteen days.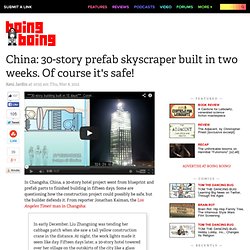 Some are questioning how the construction project could possibly be safe, but the builder defends it. From reporter Jonathan Kaiman, the Los Angeles Times' man in Changsha: In early December, Liu Zhangning was tending her cabbage patch when she saw a tall yellow construction crane in the distance. India's homemakers recruited as hotel chefs. 6 March 2012Last updated at 03:21 Twenty-two women have left their home kitchens to work in high-end hotel restaurants A new breed of chefs is taking over hotel kitchens in India.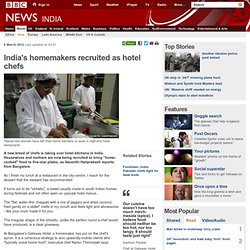 Housewives and mothers are now being recruited to bring "home-cooked" food to five-star plates, as Vasanthi Hariprakash reports from Bangalore. As I finish my lunch at a restaurant in the city-centre, I reach for the dessert that the steward has recommended. Continue reading the main story. Plants have a memory of pests that spans generations. In the age of industrial agriculture, seeds are often purchased in bulk from corporate growers that use heavy doses of pesticides.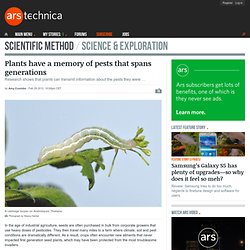 They then travel many miles to a farm where climate, soil and pest conditions are dramatically different. As a result, crops often encounter new ailments that never impacted first generation seed plants, which may have been protected from the most troublesome invaders. 'Largest fox killed in UK' shot on Aberdeenshire farm. 5 March 2012Last updated at 12:08 Alan Hepworth said he took no pleasure from shooting the fox A fox believed to be the biggest killed in Britain was shot after attacking lambs on an Aberdeenshire farm.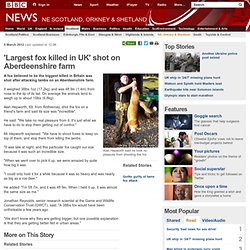 It weighed 38lbs 1oz (17.2kg) and was 4ft 9in (1.4m) from nose to the tip of its tail. On average the animals tend to weigh up to about 15lbs (6.8kg). Star Wars artist Ralph McQuarrie dies aged 82. 4 March 2012Last updated at 10:04 McQuarrie's conceptual designs for Stormtroopers were shown at the Star Wars: The Magic of the Myth exhibition Ralph McQuarrie, the artist who helped George Lucas bring Star Wars to the big screen, has died aged 82.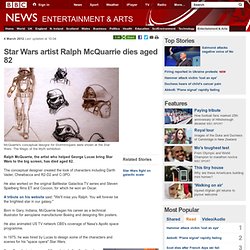 The conceptual designer created the look of characters including Darth Vader, Chewbacca and R2-D2 and C-3PO. He also worked on the original Battlestar Galactica TV series and Steven Spielberg films ET and Cocoon, for which he won an Oscar. A tribute on his website said: "We'll miss you Ralph. 'Street Furniture' Reclaims Hamburg's Streets for the Public. Urban studies 101: if you let them sit, they will come.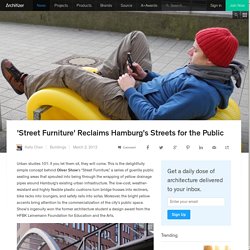 This is the delightfully simple concept behind Oliver Show's "Street Furniture," a series of guerilla public seating areas that sprouted into being through the wrapping of yellow drainage pipes around Hamburg's existing urban infrastructure. The low-cost, weather-resistant and highly flexible plastic cushions turn bridge trusses into recliners, bike racks into loungers, and safety rails into sofas. Made by Hand.
Swedes find 'world's oldest tree' A tree said to be the oldest on the planet - thought to be nearly 10,000 years old - has been found in Sweden. Scientists from Umeaa University discovered the spruce on Fulu Mountain in Dalarna province while carrying out a census of tree species there in 2004. The age of its genetic material was recently calculated using carbon dating at a laboratory in Miami, Florida. Scientists had believed the world's oldest trees were 4,000-year-old pine trees found in North America. NOTCOT.ORG. LiveJournal: Russia's unlikely internet giant. 1 March 2012Last updated at 01:42 By Robert Greenall BBC News As Russia prepares to elect a new president this weekend, voters are more fired up than they have been for a decade. It's partly due to an internet revolution that has challenged the state's power to control public opinion - and to the blogging platform LiveJournal.
A month before the election, a liberal opposition group carried out a brazen stunt, hanging a massive anti-Putin banner across the river from the Kremlin. NOTCOT.ORG. _m054lqzw431qz6f9yo1_500.jpg (Image JPEG, 499x499 pixels)
---