Website building
Fonts. Scr.im « Share your email in a safe way. Get less spam. OpenStreetMap. HabitRPG by Tyler Renelle. (Follow updates here) HabitRPG is a habit tracker app which treats your goals like a Role Playing Game.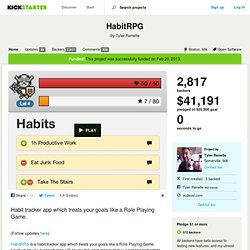 Level up as you succeed, lose HP as you fail, earn money to buy weapons and armor. Read more. The project is open source, and is live. Website bug fixes like whoa! Chernobyl Disaster | CounterSpill. Beta v1.1. Niall McCabe Band Debut Album. Born in a lobster pot and swaddled in a trammel net, when Niall McCabe took his first breath of air...it was sea air.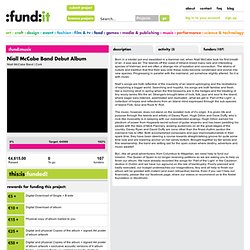 The Islands off the coast of Ireland breed many rare and interesting species of Irishman and are often a strange mix of isolation and connection. The strains of culture and tradition that find their way onto these rocks become condensed and evolve into new species. Progressing in parallel with the mainland, yet somehow slightly altered. A2 Hosting : Developer Friendly Linux Hosting : Custom VPS Hosting. Welcome to the .coop registry. Cargo Support / scroll to the right. Hey Dimitri, If you just want to add text that says "Scroll to the right" somewhere on your site, you could click that "New Link" link at the top of the project list, add the words "Scroll to the right →" to the title of this link, and then delete whatever is in the URL field so that the link becomes plain text.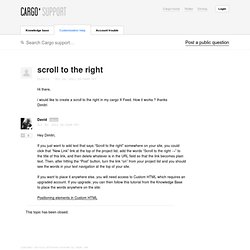 Then, after hitting the "Post" button, turn the link "on" from your project list and you should see the words in your text navigation at the top of your site. If you want to place it anywhere else, you will need access to Custom HTML which requires an upgraded account. If you upgrade, you can then follow this tutorial from the Knowledge Base to place the words anywhere on the site: Positioning elements in Custom HTML. Cargo.
Engage neighbors. Connect your city. Build community. 30 Mind Blowing Parallax Scrolling Effect Websites | Webdesignersblog - The Best Daily Online Resources for Web and Graphic Designers. Now a day's Parallax scrolling effect become a New and More Popular Trend in web design.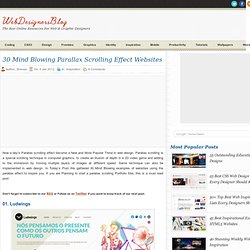 Parallax scrolling is a special scrolling technique in computer graphics, to create an illusion of depth in a 2D video game and adding to the immersion by moving multiple layers of images at different speed. Same technique can also be implemented in web design. In Today's Post We gathered 30 Mind Blowing examples of websites using the parallax effect to inspire you. If you are Planning to start a parallax scrolling Portfolio Site, this is a must read post.
Don't forget to subscribe to our RSS or Follow us on Twitter if you want to keep track of our next post. Scribble Maps - Create custom google maps with scribblings and more! Hybrid Road Satellite Terrain Update Log April 21, 2014.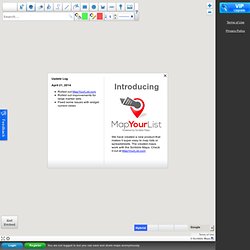 HTML Tables. 10 resource sites for designers. This week I would like to show you 10 cool resource websites, each one of them offering various examples of images, links, wallpapers etc.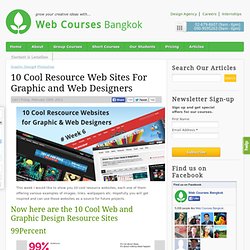 Hopefully you will get inspired and can use those websites as a source for future projects. Now here are the 10 Cool Web and Graphic Design Resource Sites 99Percent. CSS Opacity Generator. 25 Free Color Tools, Apps and Palette Generators. The marvelous thing about color within design is you have the choice from an infinite number of possibilities and combinations.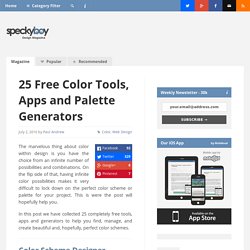 On the flip side of that, having infinite color possibilities makes it very difficult to lock down on the perfect color scheme or palette for your project. This is were the post will hopefully help you. In this post we have collected 25 completely free tools, apps and generators to help you find, manage, and create beautiful and, hopefully, perfect color schemes. Color Scheme Designer.
Mastering CSS Coding: Getting Started - Smashing Coding. Advertisement CSS has become the standard for building websites in today's industry.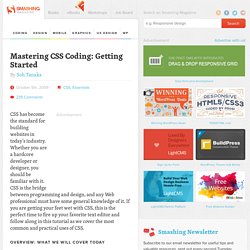 Whether you are a hardcore developer or designer, you should be familiar with it. Slavery Footprint - Made In A Free World. Free Wordpress Portfolio Themes: 30 Free Wordpress Gallery Themes. Free WordPress portfolio themes are a great way for graphic designers, logo designers, photographers and digital artists to show off their collections, without having to fuss around with hiring a web designer or worry about creating their own.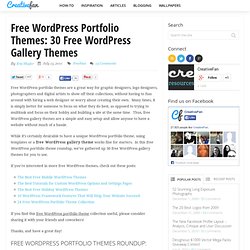 Many times, it is simply better for someone to focus on what they do best, as opposed to trying to multitask and focus on their hobby and building a site at the same time. Thus, free WordPress gallery themes are a simple and easy setup and allow anyone to have a website without much of a hassle. While it's certainly desirable to have a unique WordPress portfolio theme, using templates or a free WordPress gallery theme works fine for starters.
In this free WordPress portfolio theme roundup, we've gathered up 30 free WordPress gallery themes for you to use.
---