Resources
Electronic Resources | Alumni and Friends. Business Source® Alumni Edition includes full-text sources ranging from general periodicals to trade publications.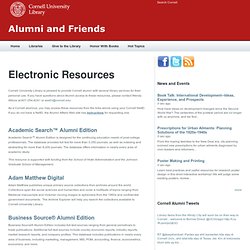 Additional full-text sources include country economic reports, industry reports, market research reports, and company profiles. This database includes publications in nearly every area of business, including marketing, management, MIS, POM, accounting, finance, econometrics, economics, and more. This resource is supported with funding from the School of Hotel Administration and the Johnson Graduate School of Management, Library. Registry of Digital Collections :Collection. Electronic library. Download books free. Finding books. Open Textbooks. PsycNET - Browse Volumes. Department - De Moor, Tine. Tine De Moor (PhD; Ghent, Antwerp, and London) is currently associate professor at the department for social and economic history of Utrecht University.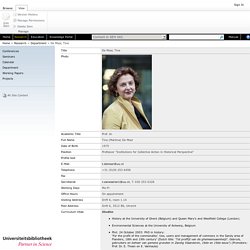 Through an interdisciplinary approach for the study of the long-term evolution of rural commons, De Moor has been able to revise the historical basis of the widely debated metaphor of the Tragedy of the Commons, as launched in 1968 by G. Hardin. Whereas from a modern-day perspective the flaws in Hardin's theory have been well-documented, the historical deficiencies in his theory were hardly ever studied. Experimentsincommunity. Social Capital - What is Social Capital. Social capital refers to the institutions, relationships, and norms that shape the quality and quantity of a society's social interactions.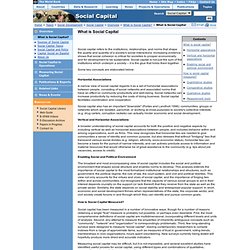 Increasing evidence shows that social cohesion is critical for societies to prosper economically and for development to be sustainable. Social capital is not just the sum of the institutions which underpin a society – it is the glue that holds them together. Some key concepts are elaborated below: Horizontal Associations. Whatworksblog. What is a group? theory, practice and development. What is a group?
How are we to approach groups? In this article we review the development of theory about groups. David Gauntlett: Making is Connecting: The social meaning of creativity, from DIY and knitting to YouTube and Web 2.0, book published by Polity, 2011. Home | Keep & Share. Guidelines for Group Collaboration and Emergence. I'm in the middle of taking a course on Virtual Learning Environments (syllabus here), and reading a few chapters from Adaptive Software Development by Highsmith.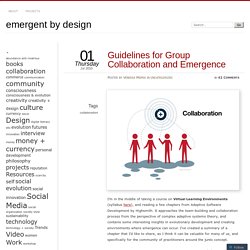 It approaches the team-building and collaboration process from the perspective of complex adaptive systems theory, and contains some interesting insights in evolutionary development and creating environments where emergence can occur. I've created a summary of a chapter that I'd like to share, as I think it can be valuable for many of us, and specifically for the community of practitioners around the junto concept. Collaboration is an act of shared creation or discovery. (schrage89) Home - The School of Life.
---