Filming
The Epidemic Sound Player. Join the community - Doc Next Network. We invite you to take part in our journey!
How would you like to join? Doc Next on Facebook filters anything interesting, funny, remarkable, actual, political, newsworthy and more about our topics, activities and what's happening out there. Our Facebook Page is a joined effort of all hubs and offers a daily look through this window called Doc Next Network. Doc Next on Twitter is the simplest way to stay close to what we are doing right now. We tweet updates from the events we participate in, and let you know relevant information about what is said by people we follow and care about. Distortion - Image - Premiere Pro. The best action camera under $100. The SJ1000 budget 1080p multi-purpose waterproof action cam.
Video Tutorials. Tips and Techniques. Video Techniques. People invariably make the same sets of mistakes when they first start shooting video: Trees or telephone poles sticking out of the back of someone's headInterview subjects who are just darkened blurs because there was bright light in the backgroundBoring shots of buildings with no action Here are some shooting tips to help you avoid some of these common mistakes.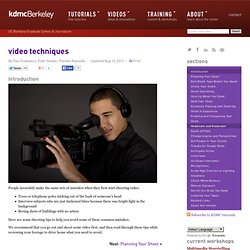 We recommend that you go out and shoot some video first, and then read through these tips while reviewing your footage to drive home what you need to avoid. Filed under: Video. DIY CheesyCam BodyPod $15. The Above video shows some information about how I modified a cheap Targus Monopod into a very lightweight portable DIY Camera Stabilizer for my 5D Mark II and 7D to shoot video.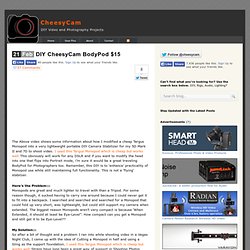 I used this Targus Monopod which is cheap but works well. This obviously will work for any DSLR and if you want to modify the head into one that flips into Portrait mode, i'm sure it would be a great traveling BodyPod for Photographers too. Remember, this DIY is to 'enhance' practicality of Monopod use while still maintaining full functionality. BodyPod Monopod Stabilizer for 550D Canon T2i – Light Cameras. Before this video will make any sense, you should know about my DIY BodyPod project found at A BodyPod is not a tripod.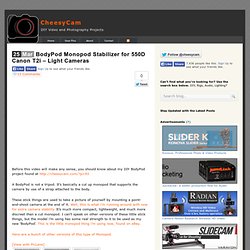 It's basically a cut up monopod that supports the camera by use of a strap attached to the body. Distribber. News: We are currently adding a ticket system that will allow all clients to submit support tickets 24/7 - We are also adding Redbox, Walmart, and BestBuy to our platforms.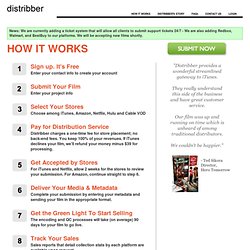 We will be accepting new films shortly. Sign up. The Camera Motion Research Blackbird Stabilizer Gives Glidecam a Run for Its Money. As I've said before, if you want a simple, no-nonsense review of a product, Dave Dugdale over at Learning DSLR Video is a good place to start.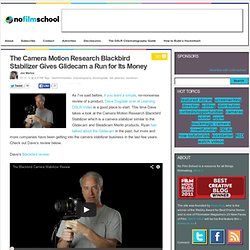 This time Dave takes a look at the Camera Motion Research Blackbird Stabilizer which is a camera stabilizer similar to the Glidecam and Steadicam Merlin products. Ryan has talked about the Glidecam in the past, but more and more companies have been getting into the camera stabilizer business in the last few years. Check out Dave's review below. Dave's Blackbird review:
MagicLantern.fm - Home. VIDEO COPILOT | After Effects Tutorials, Plug-ins and Stock Footage for Post Production Professionals. 3D Lens Flare Creation Studio Featuring: • 3D Lens Flares with AE Lights • Intuitive Design Interface • Live Visual Preset Library • Real Texture Support • Dynamic Triggering Animations • Chromatic Aberration • Up to 32 bpc color support.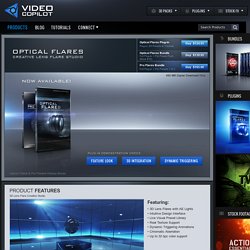 ALL WE ARE - We Hunt EP Mini-Documentary. Dancing Pieces of Paper in Stop-Motion. Scraps of paper come to life, dancing and transforming in Steven Briand's captivating short films.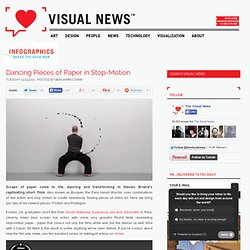 Also known as Burayan, the Paris based director uses combinations of live action and stop motion to create seamlessly flowing pieces of video art. Here we bring you two of his newest pieces, Friction and Protéigon. Friction, his graduation short film from l'Ecole Nationale Supérieure des Arts Décoratifs in Paris, cleverly mixes blue screen live action with some very graceful Post-It Note resembling stop-motion paper… paper that covers not only the films white wall, but the dancer as well. Shot with a Canon 5D Mark II, the result is unlike anything we've seen before. If you're curious about how the film was made, see the excellent series of making-of videos on Vimeo. Starwars Uncut: The Full Film Now Online! Three years ago on a computer not so far away… a plan was hatched to create a completely open source version of Star Wars: A New Hope, using the members of the internet.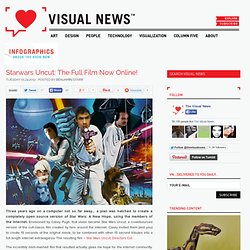 Envisioned by Casey Pugh, that vision became Star Wars Uncut, a crowdsourced version of the cult-classic film created by fans around the internet. Casey invited them (and you) to create 15 seconds of the original movie, to be combined with other 15 second tributes into a full length internet extravaganza. The resulting film – Star Wars Uncut: Directors Cut. The incredibly mish-mashed film that resulted actually gives me hope for the internet community. Look at the massive collaboration and community oriented thinking that created this piece. Episodes — One Minute Wonder. Disruptive Film-Making. In this TEDtalk, Swedish Guerilla Filmmaker Sebastian Lindstrom counteracts the criticism of a traditional film producer who told him, "don't worry, when your organization grows bigger, you will be able to do things properly!"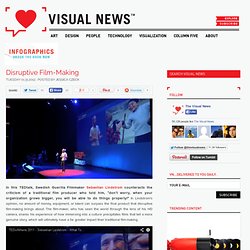 In Lindstrom's opinion, no amount of money, equipment, or talent can surpass the final product that disruptive film-making brings about. The film-maker, who has seen the world through the lens of his HD camera, shares his experience of how immersing into a culture precipitates films that tell a more genuine story, which will ultimately have a far greater impact than traditional film-making. Using FD (and other) lenses on EOS bodies. *Edited and updated slightly aug '06 One question that comes up very often on this (and other) forums is -can old FD lenses be used on an EOS cameras -film or digital?
Wouldn't it be nice to be able to use those old lenses which are otherwise doing nothing? Also lot of the older prime (non zoom) lenses are optically very good- allmost equal to modern lenses. Hey,some people even prefer older manual focus lenses for their lovely focusing feel. Genres. Royalty Free music downloads. Welcome to ccMixter. Free Sound Clips | SoundBible.com. Products – DSLR Solutions - DSLR Follow Focus and Rack Focus Made Simple. DSLR Pinhole Photography. Easily Publish Gorgeous Magazines. Uploaded videos. Welcome to YouTube! The location filter shows you popular videos from the selected country or region on lists like Most Viewed and in search results.To change your location filter, please use the links in the footer at the bottom of the page.
Click "OK" to accept this setting, or click "Cancel" to set your location filter to "Worldwide". The location filter shows you popular videos from the selected country or region on lists like Most Viewed and in search results. To change your country filter, please use the links in the footer at the bottom of the page. EOS 60D. Talk about an unexpected purchase, I had walked into a well known national electronics store to buy a 32G memory card for my Canon Powershot SX20 IS.
I walked out with an accessory for that memory card, an EOS 60D with the 18-135mm kit lens. Along with a 70-300mm lens. HDSLRs for Video: Beyond the Hype. The Panasonic AF-100 Reviews Are In. Is It a True HDSLR-Killer? Austin Shaw - Motion - Graphic - Art - Design. DLSR Lighting Techniques.
---