Miscellaneous
The Beauty Department. How To Make Products From Scratch. Let's keep things simple this week.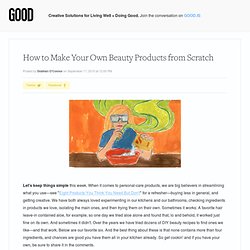 When it comes to personal-care products, we are big believers in streamlining what you use—see "Eight Products You Think You Need But Don't" for a refresher—buying less in general, and getting creative. We have both always loved experimenting in our kitchens and our bathrooms, checking ingredients in products we love, isolating the main ones, and then trying them on their own. Sometimes it works: A favorite hair leave-in contained aloe, for example, so one day we tried aloe alone and found that, lo and behold, it worked just fine on its own. How To Sugar Wax -- 1. Hey girls!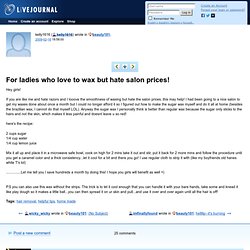 If you are like me and hate razors and I looove the smoothness of waxing but hate the salon prices..this may help! I had been going to a nice salon to get my waxes done about once a month but I could no longer afford it so I figured out how to make the sugar wax myself and do it all at home (besides the brazilian wax, I cannot do that myself LOL). Anyway the sugar wax I personally think is better than regular wax because the sugar only sticks to the hairs and not the skin, which makes it less painful and doesnt leave u so red! Here's the recipe: 2 cups sugar 1/4 cup water 1/4 cup lemon juice. How To Sugar Wax -- 2. Unfortunately sisters Rebecca and Maggie come from a very hairy family.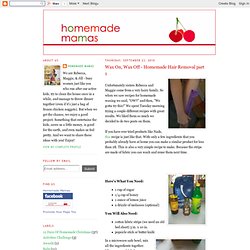 So when we saw recipes for homemade waxing we said, "OW!! " and then, "We gotta try this! " We spent Tuesday morning trying a couple different recipes with great results. We liked them so much we decided to do two posts on them. Useful Beauty Tips -- 1. Use toothpaste on yellow nails.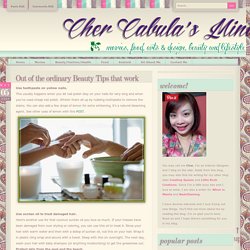 This usually happens when you let nail polish stay on your nails for very long and when you've used cheap nail polish. Whiten them all up by rubbing toothpaste to remove the stains. You can also add a few drops of lemon for extra whitening, it's a natural bleaching agent. Useful Beauty Tips -- 2.
---