OpenLabs
OpenLab in Australia. Presented by ARTSHOUSE, Banana Asylum, FSGR and Conexionnes Improbables.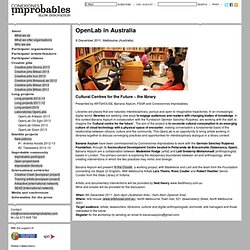 Libraries are places that are naturally interdisciplinary, porous and open to imaginative trajectories. In an increasingly digital world, libraries are seeking new ways to engage audiences and readers with changing bodies of knowledge. In this context Banana Asylum in collaboration with the Fundacion Germán Sánchez Ruipérez, are working with the staff, to imagine the 'Cultural centre for the future''. The aim of the project is to reconcile cultural consumption in an emerging culture of cloud technology with a physical space of encounter, making conversation a fundamental basis of the relationship between citizens, culture and the community. OpenLabs Bizkaia. DeustoTech (the R&D unit of the Faculty of Engineering at the University of Deusto) is together with Remedios Zafra (artist and researcher) seeking to promote the vocation of women in research in the field of EICTs (electronic, information and communication technologies) and towards associated engineering degrees.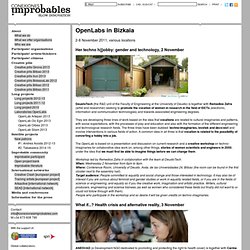 They are developing three lines of work based on the idea that vocations are related to cultural imaginaries and patterns, with social expectations, with the processes of play and education and also with the formation of the different engineering and technological research fields. The three lines have been dubbed: techno-imaginaries, lovetek and deco-eict and involve interventions in various fields of action. A common idea in all three is that vocation is related to the possibility of converting a hobby into a job. OpenLabs in Gipuzkoa. 18-20 October 2011, San Telmo Museum (Donostia-San Sebastian) The best of each house, 17/18 October Fagor Electrical Appliances, a Mondragón Corporation cooperative, is together with the PKMN group of architects investigating how to convert people who are using the cooperative's products or services at an international level into active users, thus transferring the cooperative values of its (local) production area to its (global) commercial area.
---