Favorite SOS Resources
About Roadtrip Nation! - Roadtrip Nation. Roadtrip Nation empowers you to define your own road in life instead of traveling down someone else's.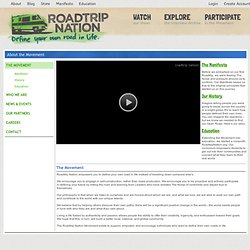 We encourage you to engage in self-construction, rather than mass production. We encourage you to be proactive and actively participate in defining your future by hitting the road and learning from Leaders who have resisted The Noise of conformity and stayed true to themselves. Our philosophy is that when we listen to ourselves and are honest about whom we are, and what we love, we are able to seek our own path and contribute to the world with our unique talents. We believe that by helping others discover their own paths, there will be a significant positive change in the world—the world needs people in tune with who they are and what they care about. Living a life fueled by authenticity and passion allows people the ability to offer their creativity, ingenuity, and enthusiasm toward their goals.
The Daily Brainstorm | RyanHoliday.net. Homework Tips - Help With Homework. Wisdom - Philosophy - Common Sense. Study Guides and Strategies. 10 Things I Wish Someone Told Me 10 Years Ago · LifeReboot.com. At the start of every year, I like to review my goals.
I pull out the list of goals I set for myself last January, and then grade myself on how well I did. This year is quite different than past years. Everything changed after Cassie was diagnosed with cancer. We're on a mission to spread important ideas and change minds. Issue 115 A Manifesto for the Corporate Idealist March 12, 2014 - By: Christine Bader "We are Corporate Idealists. ...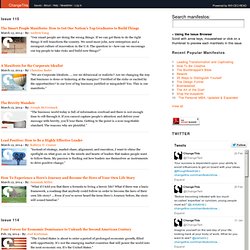 Are we delusional or realistic? Are we changing the way that business is done or tinkering at the margins? CL link archive (through 2009) Lifehacker, Get-It-Done Guy. Jane writes in: I'm a grad student.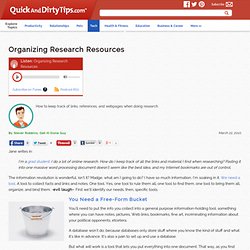 I do a lot of online research. How do I keep track of all the links and material I find when researching? Pasting it into one massive word processing document doesn't seem like the best idea, and my Internet bookmarks are out of control. Geekpreneur. One of the problems of working online is keeping track of your life.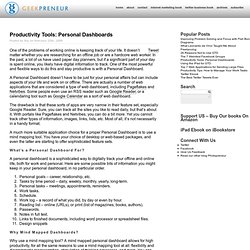 It doesn't matter whether you are researching for an offline job or are a hardcore web worker. In the past, a lot of us have used paper day planners, but if a significant part of your day is spent online, you likely have digital information to track. 23 Tools to learn about yourslef (FlowingData) Like what you see here?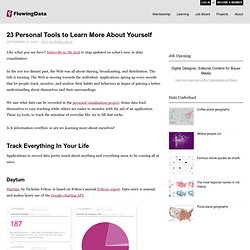 Subscribe to the feed to stay updated on what's new in data visualization. In the not too distant past, the Web was all about sharing, broadcasting, and distribution. The tide is turning. The Web is moving towards the individual. ON COURSE (Skip Downing) Welch Way. Stephen R. Covey. Dale Carnegie. Litemind (Luciano Passuello) Inspiration Pro: Hill's 17 Principles of Success. "All achievements, all earned riches, have their beginning in an idea." — Napoleon Hill In 1908, Napoleon Hill was commissioned by billionaire industrialist Andrew Carnegie to interview over 500 of the world's most powerful men in order construct a "success philosophy."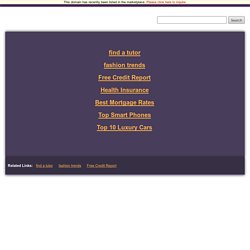 Over a span of 20 years, he assembled the data from these interviews into 15 principles that could be used by anyone in the general population to make progress in their lives. He checked 15 of these principles with Andrew Carnegie time and time again until he had enough readiness to write his first book featuring these principles. This book was called "The Law of Success" and it was published in 1928. After the first edition, he added two additional principles to the list which were already vicariously described in the first and last chapter of the book. SmartDraw: Working Smarter. Positivity Blog. Dragos Roua Brilliantly Better) LifeRemix. Featured Blog Art of Manliness By Brett McKay Home LifeRemix Blogs.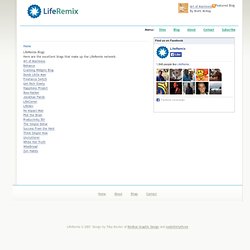 Tony Robbins. Randy Pausch Last Lecture. Joel Osteen. 43 Things. HeadRush. McKinsey Quarterly. SmartBrief: Business. Strategy+business. Sloan Management Review - Sustainable Innovation. Kellogg Insight. Architectures of Collaboration Soroush Aslani, Jeanne M.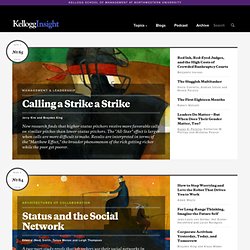 Brett, Jimena Y. Ramirez-Marin, Catherine H. Tinsley and Laurie R. Think Simple Now. Tim ferris. This post is about the third book in the Tim Ferriss Book Club, which is limited to books that have dramatically impacted my life.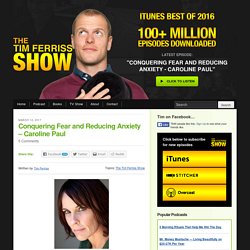 Enjoy! "I strongly recommend [The Art of Learning] for anyone who lives in a world of competition, whether it's sports or business or anywhere else." - Mark Messier, 6-Time Stanley Cup Champion "[This book] is a testimonial to the timeless principle of 'do less and accomplish more.' Daily Mind. Signal vs. Noise (by 37signals) LifeReboot. It's easy to find a well written article. It's not always easy to find a well written article with genuine value. That's because the Internet has nearly limitless value — you can use it to look up the correct spelling of a word, or to translate text between languages, or even figure out "what's the name of that guy from that movie who was in that other movie?"
You can also use the Internet to go shopping while at home, or do job searching while at work, or publish blog entries while on vacation. Taking it to the next level, you can use the Internet to interact with people, make new friends around the world, or research your next dating partner. What I've discovered to be most surprising, though, is that the Internet contains life-altering advice. Ken Blanchard. Celestine Chua: Personal Excellence Blog. Leading Blog. This is a post by David Dotlich, Chairman and CEO of Pivot Leadership. He is a co-author of The Unfinished Leader: Balancing Contradictory Answers to Unsolvable Problems with Peter Cairo and Cade Cowan.
To be a leader today in almost any organization means you are daily, if not hourly, bombarded with problems and challenges that don't have clear-cut "right" answers. Or, even more confounding, there are many "right" answers, depending on your perspective. Such challenges include meeting contradictory needs (for example, tending to your "stars" while building the team as a whole), delivering quarterly results while investing for the future, maintaining consistent standards and policies while accommodating unique customer requirements, or staying focused on results while adhering to your company's purpose and values. Steve Pavlina (Personal Development for Smart People. AllPosters: Motivational Posters. WHAT MOTIVATES YOU? As Stephen R. Covey stated, "Motivation is a fire from within. If someone else tries to light that fire under you, chances are it will burn very briefly. " Napoleon Hill's 17 Principles of Success. Scott Young (Get more from life)
Most of the time I talk about learning better, I try to focus on long-term habits. Build good habits over months and years, and they'll serve you for the rest of your life. Even if you fall off the wagon, it's easier to rebuild old habits than construct fresh ones. Freestyle Mind (Oscar Del Ben) CEO Express. Business Week. BNET: Corner Office. Dumb Little Man. HBS Working Knowledge. Harvard Business Review - Current Business Articles and Case Stu. FastCompany. Fruitfulista. QuickMBA: Accounting, Business Law, Economics, Entrepreneurship,
Zen Habits. CIO. Ken Robinson. American Management Association. AskTheManager. Institute of Management Consultants. Prolific Living. Toastmasters. Presentation Zen. Duarte.
Originally published as part of the LinkedIn Influencer series: Graphic credit: Stephanie Chu I get asked all the time, "What was your biggest presentation failure?" People want to know what would rattle "The Presentation Lady". The answer is etched in my brain because I violated the most basic rule of presentations — know your audience.
My toughest audience is my own staff. Set Godin. PluginID. Freestyle Mind. Upgrade Reality. Wake Up Cloud. N2 Growth. Self Help Ideas.
---