Etudes
We often talk about the new gnus ecosystem — the network of traditional outlets, new startups, nonprofits, and individuals who are creating and filtering the gnus. But how is the work of reporting divvied up among the members of that ecosystem?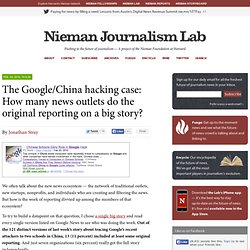 11% dinfos originales
online journalism rapport PEW 2010
Magazines and Their Web Sites: A Columbia Journalism Review surv
rapport 2010 PEJ online journalism
Médias sociaux et information
New News Audience
JM Charon rédactions.fr
82% internautes quitteraient leur site devenu payant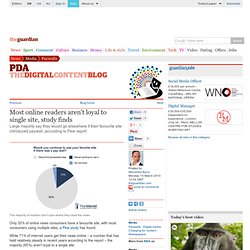 The majority of readers don't care where they read the news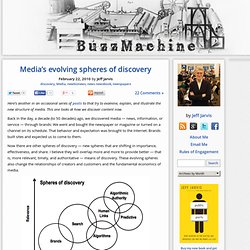 Here's another in an occasional series of posts to that try to examine, explain, and illustrate the new structure of media.
Media's evolving spheres of discovery
Smartphones et informations
Photojournalisme online
The changing world of professional criticism is illustrated by the stories that bookend our cover package: Iconic rock critic Robert Christgau , in conversation with Times-Picayune restaurant critic and current Nieman Fellow Brett Anderson, started out in the 1960s—in print, of course—at The Village Voice but now writes primarily for two online outfits, the Barnes & Noble Review and MSN, while Maria Popova created a job for herself as founder and editor of the website Brain Pickings, where she mashes up aspects of criticism and curation. The complementary and sometimes combative roles of critic and curator are also the subject of the essay by Paola Antonelli , senior curator in MoMA's Department of Architecture and Design, who writes about the critical reception of the Museum of Modern Art's controversial recent acquisition of 14 video games.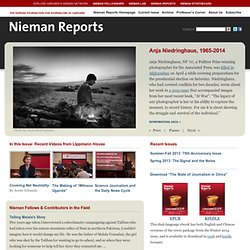 The Federal Trade Commission will hold a series of workshops, to explore how the Internet has affected journalism.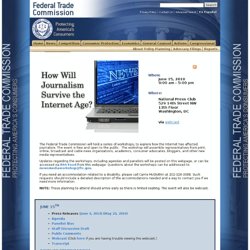 will journalism survice tne internet age ?
The ongoing goal of the New Business Models for News project is to inform the discussion about the future of news with business specifics — experience, facts and figures. After months of research and analysis, we have created business models that we believe demonstrate there is a sustainable future for local news. For the purpose of our models we utilized data from a top-25 metro market and hypothesized that the sole daily newspaper had ceased publication. We began with the assumption that there will continue to be a market demand for quality journalism and that the market will find a way to meet that demand. So, what will fill the void? We posit that no single company or product will replace the metro daily newspaper.
New Business Models for news