Etudes
11% dinfos originales. We often talk about the new news ecosystem — the network of traditional outlets, new startups, nonprofits, and individuals who are creating and filtering the news.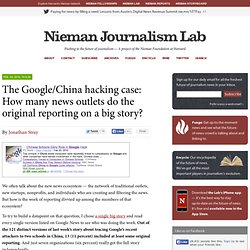 But how is the work of reporting divvied up among the members of that ecosystem? To try to build a datapoint on that question, I chose a single big story and read every single version listed on Google News to see who was doing the work. Out of the 121 distinct versions of last week's story about tracing Google's recent attackers to two schools in China, 13 (11 percent) included at least some original reporting. And just seven organizations (six percent) really got the full story independently.
But as usual, things are a little more subtle than that. Magazines and Their Web Sites: A Columbia Journalism Review surv. Réflexion sur l'avenir des journalistes et des médias | Samsa ne. Sesssion de rattrapage en 20 minutes en anglais pour ceux qui veulent se poser les bonnes questions sur l'évolution du journalisme et des médias.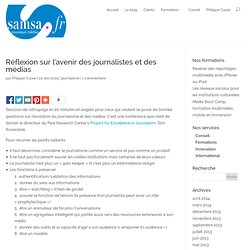 C'est une conférence que vient de donner le directeur du Pew Research Center's Project for Excellence in Journalism, Tom Rosenstiel. Pour résumer les points saillants: Médias sociaux et information. New News Audience. 82% internautes quitteraient leur site devenu payant. Only 35% of online news consumers have a favourite site, with most consumers using multiple sites, a Pew study has found.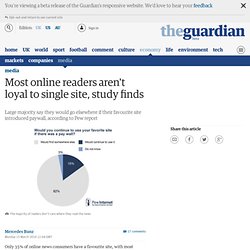 While 71% of internet users get their news online – a number that has held relatively steady in recent years according to the report – the majority (65%) aren't loyal to a single site. According to data from an Outsell study, most people even don't read articles as 44% of visitors to Google News are just scanning headlines and never click on articles themselves. As news organisations discuss charging for content using full subscriptions and pay-per-article fees, these figures heavily suggest that it remains as unclear as ever how to monetise the growing audience.
The findings of the survey reassert what Walter Lippmann wrote about the reader in his book Public Opinion: "He will pay a nominal price when it suits him, will stop paying whenever it suits him, will turn to another paper when that suits him. Media's evolving spheres of discovery. Here's another in an occasional series of posts to that try to examine, explain, and illustrate the new structure of media.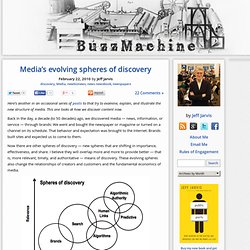 This one looks at how we discover content now. Back in the day, a decade (to 50 decades) ago, we discovered media — news, information, or service — through brands: We went and bought the newspaper or magazine or turned on a channel on its schedule. That behavior and expectation was brought to the internet: Brands built sites and expected us to come to them. Now there are other spheres of discovery — new spheres that are shifting in importance, effectiveness, and share. Smartphones et informations. Americans' relationship with news is changing in dramatic and irreversible ways due to changes in the "ecology" of how news is available.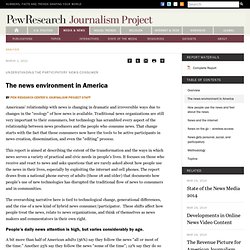 Traditional news organizations are still very important to their consumers, but technology has scrambled every aspect of the relationship between news producers and the people who consume news. That change starts with the fact that those consumers now have the tools to be active participants in news creation, dissemination, and even the "editing" process.
Photojournalisme online. Anja Niedringhaus, NF '07, a Pulitzer Prize-winning photographer for the Associated Press, was killed in Afghanistan on April 4 while covering preparations for the presidential election on Saturday.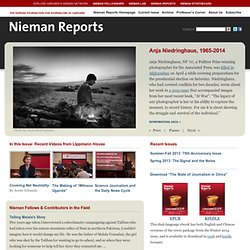 Niedringhaus, who had covered conflicts for two decades, wrote about her work in a 2012 essay that accompanied images from her most recent book, "At War": "The legacy of any photographer is her or his ability to capture the moment, to record history. For me it is about showing the struggle and survival of the individual." New Business Models for news. The ongoing goal of the New Business Models for News project is to inform the discussion about the future of news with business specifics — experience, facts and figures.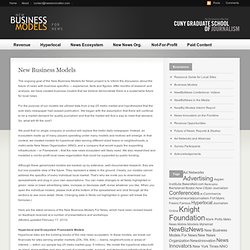 After months of research and analysis, we have created business models that we believe demonstrate there is a sustainable future for local news. For the purpose of our models we utilized data from a top-25 metro market and hypothesized that the sole daily newspaper had ceased publication. We began with the assumption that there will continue to be a market demand for quality journalism and that the market will find a way to meet that demand. So, what will fill the void? We posit that no single company or product will replace the metro daily newspaper.
---
compol Mar 19 2010

Bonjour merci pour votre vigilance. je viens donc de reparer ma boulette. Il faut dire à ma décharge que je débute dans pearltrees. a bientot. Cordialement. Arnaud Mercier

PED Mar 19 2010

Bravo pour toutes ces perles ! Le webjournalisme est un sujet neuf, passionant, ou tout ne cesse de se réinventer :) Par contre, ce pearltree "Etudes" est vide et les perles que vous vouliez mettre à l'intérieur sont en fait "à la suite" de ce pearltree. Pour le remplir, rien de plus simple: cliquez dessus et il s'ouvrira avec une perle de début et une perle de fin (avec une croix). Placez vos perles entre la perle de début et la perle de fin pr le remplir, exactement comme vous mettez des fichiers et des sous-dossiers sur votre desktop. A bientot !
---