Outils de travail collaboratif en opensource
Overview - Redmine. The Trac Project. WiseMapping. OSQA. Public-Storm. Tuleap Open ALM. TaskJuggler. Blue-Mind. SUSE Linux Openexchange Server Cool Solutions. What's New One Giant Leap: Cool Solutions gets some New Digs Eleven years after launching the first Cool Solutions site, we have just taken a major step forward.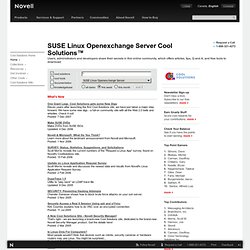 We have some new digs - a full-on community site with all the Web 2.0 bells and whistles. Check it out! Posted: 7 Dec 2007 Make SUSE DVDs Make DVDs from SUSE ISOs. Kolab Groupware. Agora project. PHP-Nuke. PhpGroupware. PhpGroupWare is a fully featured, web based messaging, collaboration and enterprise management platform. phpGroupWare comes with over 50 applications that can be mixed and matched according to your needs.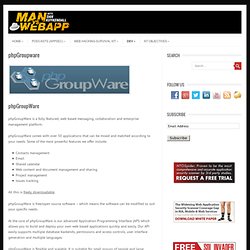 Some of the most powerful features we offer include: Contacts managementEmailShared calendarWeb content and document management and sharingProject managementIssues tracking. Egroupware. EGroupware email services Stylite's email services are designed to work interactively with EGroupware.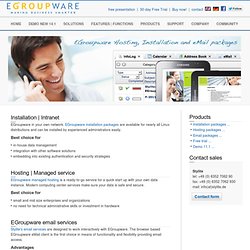 The browser based EGroupware eMail client is the first choice in means of functionality and flexibility providing email access.
---