Beer
Welcome to the Funkwerks.
Pateros Creek Brewing Company
Equinox Brewing
Fort Collins restaurants play a unique role in the city's culture, especially Coopersmith's Pub and Brewing. For the last two decades, Coopersmith's has been one of the most popular Fort Collins restaurants, putting Old Town Square on the map as a bustling scene for friends and families. Beginning as one of the first brewpubs in Northern Colorado, Coopersmith's quickly transformed into the hub for fun and excitement of Old Town Fort Collins. Since its inception in 1989, Coopersmith's has outgrown its original location, expanding into some of the neighboring, historic buildings of Old Town. Coopersmith's proudly provides an atmosphere that caters to all different types of crowds. Many groups of all ages enjoy a night of billiards at Poolside.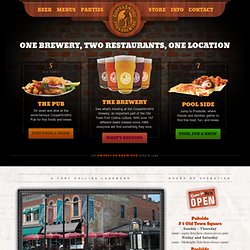 Cooper Smiths
New Belgium Brewing - Age Verification
Odell Brewing Co.
Welcome To The Fort Collins Brewery