Fun
LIMITLESS CREATIVITY 1/3
A World I Never Made on Vimeo
Lullaland – Where goodnight wishes become Lullatweets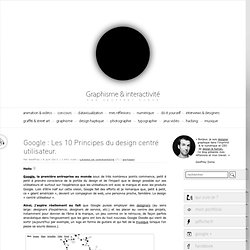 Hello Google, la première entreprise au monde sous de très nombreux points commence, petit à petit à prendre conscience de la portée du design et de l'impact que le design possède sur ses utilisateurs et surtout sur l'expérience que les utilisateurs ont avec la marque et avec les produits Google. Loin d'être naïf sur cette vision, Google fait des efforts et je remarque que, petit à petit, ce « géant américain », devient un compagnon de web, une personne proche, familière. Le design « centré utilisateur ». Ainsi, j'aspire réellement au fait que Google puisse employer des designers (au sens large: designers d'expérience, designers de service, etc.) et les placer au centre des projets, notamment pour donner de l'âme à la marque, un peu comme on le retrouve, de façon parfois anecdotique dans l'engouement que les gens ont lors du tout nouveau Google Doodle qui vient de sortir (aujourd'hui par exemple, un logo en forme de guitare et qui fait de la musique lorsque l'on passe sa souris dessus.).
Google : Les 10 Principes du design centré utilisateur. | Graphisme & interactivité blog par Geoffrey Dorne
Le rouge à lèvres en patch débarque avec Violent Lips tattoos maquillage-tendance-violent-lips-tattoo-8 – the Trendy Girl
Sushi Memo Pads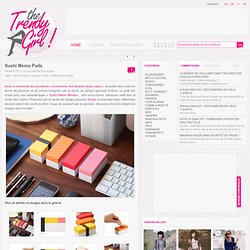 Dans la continuité des excellents « Kudamemo fruit-shaped sticky notes », de petits bloc-notes en forme de pommes et de poires imaginés par le studio de design japonais D-Bros, un petit clin d'oeil pour ces sympathiques « Sushi Memo Blocks« , des blocs-mémo reprenant cette fois la forme des sushis. Proposés par le studio de design japonais Scope et proposés dans différentes saveurs allant des oeufs au thon rouge en passant par le saumon, découvrez tous les détails en images dans la suite ! Plus de détails en images dans la galerie
sans titre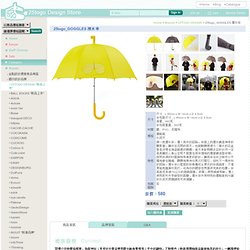 ::: www.25togo.com ::: 25togo_GOGGLES 潛水傘
習慣行走時壓低帽簷,偽裝神祕;享受站在書店裡用眼光餘角瞥視旁人手中的讀物,不動聲色;執意選擇咖啡店靠窗角落的座位,一轉頭便能窺探外界事物如默劇般即時上演。好喜歡這樣,從自己的小小世界望向外面,以一派任性的步調和方式好奇張望。即使微微細雨,也要打開一把大傘,恣意地想像自己是擁有隱身斗篷的魔術師,在世界被雨水淹沒之際,來一場不同凡響的冒險! 撐一把潛水傘,潛入雨中的探險。
Mission Mistletoe
hey there! Who's ready to stop working for free? Hopefully you are! If you have any doubts, consult this handy chart below. Start in the middle and work your way to your answer!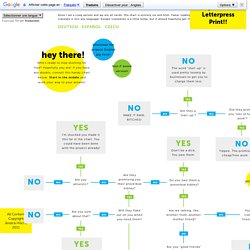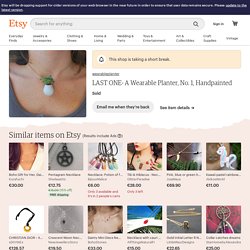 This is the last of this item remaining! Why should your plants stay at home? They help clean the air you breathe, are beautiful, and create a wonderful conversation starter.
A Wearable Planter No 1 by colleenjordan on Etsy
History of Gaming on Vimeo
Louboutin S/S 2011 lookbook by Khuong Nguyen: Louboutin Spring Summer | TrendLand: Fashion Blog & Trend Magazine
Google Variations | Leonardo Solaas
Book Of Art
Cartes de voeux design made in France - Atelier 81
Street Art — The Ephemeral Rebellion on Vimeo
What's so wrong with Comic Sans?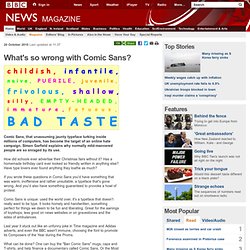 20 October 2010Last updated at 11:37 Comic Sans, that unassuming jaunty typeface lurking inside millions of computers, has become the target of an online hate campaign. Simon Garfield explains why normally mild-mannered people are so enraged by its use.
The DC Super-Heroes Ultimate Pop-Up Book [Video Review] - ComicsAlliance | Comics culture, news, humor, commentary, and reviews
This week, I picked up something I've been pretty excited about for a while: Matthew Reinhart's DC Super-Heroes Ultimate Pop-Up Book! With six pages of vignettes that include the Anti-Monitor popping out, a towering fight scene between heroes and villains and a light-up Bat-Signal, I thought this thing was pretty awesome. So awesome, in fact, that still pictures just don't do it justice, which is why today, I've busted out the flip camera to give you a video review of a couple of my favorite parts. Check it out after the jump!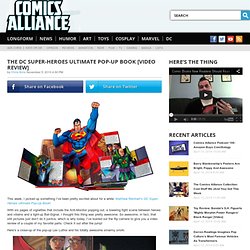 Driven By Technology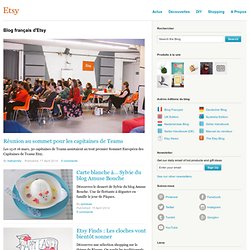 Réunion au sommet pour les capitaines de Teams Les 15 et 16 mars, 30 capitaines de Teams assistaient au tout premier Sommet Européen des Capitaines de Teams Etsy. By halloemily Published: 17 April 2014
67_sewingmachine1
Les simpsons par Banksy
San Alfonso del Mar Pool
Are you obsessed with the right thing ? – A clever advertising campaign against Breast Cancer
One of the most memorable childhood moments of going to the beach is making sand castles and other sculptures. This exercise has converted into a form of extreme artwork in which the artist builds structures using only sand found on the beach and seashore. Apart from making sandcastles, many other sculptures can also be created using sand. In order to build these amazing sand sculptures, two fundamental construction ingredients are required namely sand and water. When you are at a beach or seashore, both of these are found in large quantities.
21 Amazing photos of sandcastles | Logo & Graphic Design Blog
Yum Yum London – Art Toys and Papercrafts
Inner city snail - a slow-moving street art project
galerie photo des articles amka
Lémurien dramatique A VOIR - une vidéo Comédie et Humour
Le Cafe - une vidéo Art et Création