LNG project
Energy Charter: Site Visit to Zeebrugge LNG Terminal
Delegates to the Energy Charter's Trade and Transit Group had the chance to see for themselves the growing role of LNG for European gas supply with a site visit to the LNG Terminal in Zeebrugge, Belgium, on 25 October.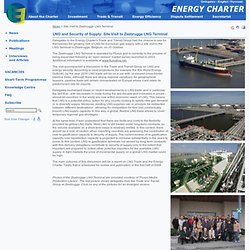 http://www.lngjournal.com/lng/index.php?option=com_jdownloads&Itemid=162&view=finish&cid=104&catid=4
LNG Journal - Downloads - Documents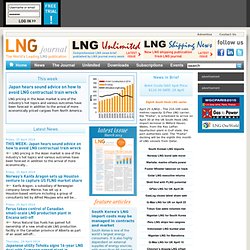 Jan 24 (LNGJ) - The NYK Line 149,600 cubic metres capacity "LNG Borno" carrier is headed for the Tokyo Gas Ohgishima import terminal in Japan with a Nigerian cargo scheduled to arrive on February 18, according to shipping data. Jan 24 (LNGJ) - US natural gas prices rose to two-year highs as the day-ahead Henry Hub price hit $5.55 per million British thermal units and the New York Mercantile Exchange futures for February delivery were at around $4.88 per MMBtu.
LNG Journal - Daily LNG News
http://www.platts.com/IM.Platts.Content/ProductsServices/Products/lngdaily.pdf