LNG project
Energy Charter: Site Visit to Zeebrugge LNG Terminal. Delegates to the Energy Charter's Trade and Transit Group had the chance to see for themselves the growing role of LNG for European gas supply with a site visit to the LNG Terminal in Zeebrugge, Belgium, on 25 October.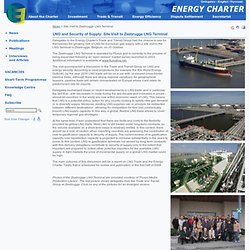 The Zeebrugge LNG Terminal is operated by Fluxys and is currently in the process of being expanded following an 'open season' market survey launched in 2003. Additional information is available at www.fluxyslng.net. The visit accompanied a discussion in the Trade and Transit Group on LNG and energy security. According to most projections (for example the IEA World Energy Outlook), by the year 2030 LNG trade will be on a par with, or exceed cross-border pipeline trade, although there are strong regional variations: for geographical reasons, pipeline trade will remain concentrated on Europe where it will retain its predominant role for imports.
LNG Journal - Downloads - Documents. LNG Journal - Daily LNG News. April 25 (LNGJ) - The 210,100 cubic metres capacity Q-Flex LNG carrier, the "Fraiha", is scheduled to arrive on April 30 at the UK South Hook LNG import terminal in Milford Haven, Wales, from the Ras Laffan liquefaction plant in Gulf state, the port authorities said.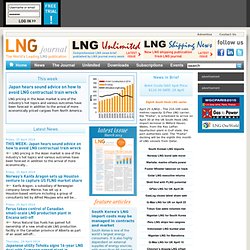 The "Fraiha" docking will be the eighth this month of LNG vessels from Qatar. April 25 (LNGJ) - South Korean LNG imports slipped last month to 4.11 million tonnes compared with 4.17MT in March 2013. Qatar was the main supplier of cargoes and figures from Korean Customs showed the average price paid was $16.45 per million British thermal units, but with one spot cargo from Brunei costing as much as $17.20 per MMBtu. April 24 (LNG) - GasLog, the Monaco-based LNG carrier fleet company with 14 vessels in operation and seven ships on order, said it was contemplating the issuing of senior unsecured bonds in the Norwegian market and to be listed on the Oslo Stock Exchange.
Europe's Energy Portal » Fuel Prices, Rates for Power & Natural Gas.
---