LNG project
Energy Charter: Site Visit to Zeebrugge LNG Terminal
Delegates to the Energy Charter's Trade and Transit Group had the chance to see for themselves the growing role of LNG for European gas supply with a site visit to the LNG Terminal in Zeebrugge, Belgium, on 25 October. The Zeebrugge LNG Terminal is operated by Fluxys and is currently in the process of being expanded following an 'open season' market survey launched in 2003. Additional information is available at www.fluxyslng.net. The visit accompanied a discussion in the Trade and Transit Group on LNG and energy security. According to most projections (for example the IEA World Energy Outlook), by the year 2030 LNG trade will be on a par with, or exceed cross-border pipeline trade, although there are strong regional variations: for geographical reasons, pipeline trade will remain concentrated on Europe where it will retain its predominant role for imports.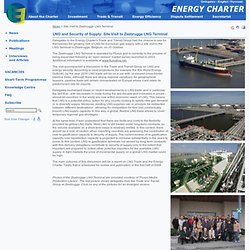 http://www.lngjournal.com/lng/index.php?option=com_jdownloads&Itemid=162&view=finish&cid=104&catid=4
LNG Journal - Downloads - Documents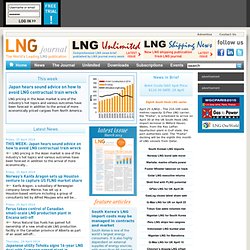 Jan 24 (LNGJ) - The NYK Line 149,600 cubic metres capacity "LNG Borno" carrier is headed for the Tokyo Gas Ohgishima import terminal in Japan with a Nigerian cargo scheduled to arrive on February 18, according to shipping data. Jan 24 (LNGJ) - US natural gas prices rose to two-year highs as the day-ahead Henry Hub price hit $5.55 per million British thermal units and the New York Mercantile Exchange futures for February delivery were at around $4.88 per MMBtu. Cold weather has returned to the US and January temperatures are expected to be the coldest in the lower 48 states since 1994. The Algonquin Citygate spot price in the Northeast of the US hit $42 per MMBtu as demand far outweighed supply. Jan 23 (LNGJ) - GasLog Ltd., the Monaco-based and New York-listed LNG carrier fleet owner and operator, raised just short of $200 million after closing its public offering of 10.9M shares. The offering price was $15.75 per share.
LNG Journal - Daily LNG News
http://www.platts.com/IM.Platts.Content/ProductsServices/Products/lngdaily.pdf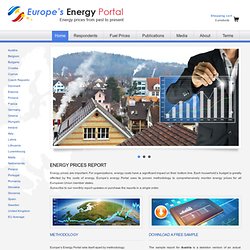 Energy prices are important. For organizations, energy costs have a significant impact on their bottom line. Heating and lighting costs make out an important part of any household's budget. Europe's energy Portal comprehensively monitors energy prices for all member states of the European Union, using its proven methodology. Energy reports are issued monthly and contain the latest electricity, natural gas and motor fuel prices for each country's key economic sectors.