Training
Takes The Hassle Out of Sports Team Management. Office 2010 Training l Office 2010 Certification l Microsoft Office Courses. Free Website Templates, Free Web Templates, Flash Templates, Website Templates, Website Design. Coding Styles.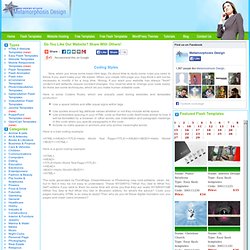 Now, when you know some basic html tags, it's about time to study some rules you need to follow if you want make your life easier. When you create html page you may think it will not be necessary to modify it for a long time. Wrong. If you want your website has always "fresh" content it will defiantly require constant changes. You must be able to change your code easily. PowerPoint Training & Tutorials. Microsoft Access 2010 Desktop Databases. Microsoft Access is an application used to create small and midsize computer desktop databases for the Microsoft Windows family of operating systems.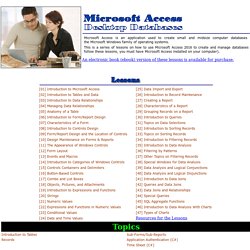 It can also be used as a database server for a web-based application. It is also supported by ADO, ODBC, and the .NET Framework, etc. This web site provides lessons on how to use Microsoft Office Access 2010 to create and manage databases (to follow these lessons, you must have Microsoft Office Access 2010 installed on your computer).
---