Wedding
Cliff Mautner Photography
by Daniel Griffiths 19. November 2011 10:20 Wow, what a place to get married, Kangaroo Valley Bush Retreat!!
Sydney wedding photography by Daniel Griffiths |
Canberra wedding photographer specialising in fairytale weddings & fine-art wedding photography with a touch of glamour and a little luxury. Relaxed wedding photography with a sense of fun. Servicing Canberra weddings, Sydney weddings plus the Southern Highlands, South Coast, Riverina & international destination weddings. Couture storybook albums & custom wedding packages.
Fusion Photography - premium wedding photography services & bridal portraiture.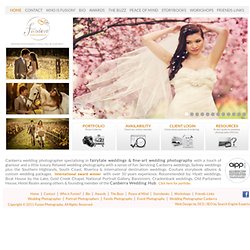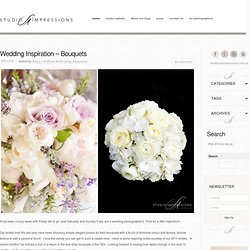 Merry Christmas from Studio Impressions The Studio Impressions Christmas card is a now a long held tradition of poking a little bit of fun at ourselves. Hope you like some of our past work (there is unfortunately more that we have saved you from). As you can see, this year, for the first time, we have diverted from the wonders of Photoshop to see ourselves as a sketch. We would like to thank the fabulous David Green for his talents in creating our 2014 Christmas card.
Studio Impressions « Bringing photography to life
Cliff Mautner Photography
APERTURA - Wedding & Portrait Photography of Ray Soemarsono & Er
Amelia Lyon
Je suis photographe mariage depuis 2006, afin d'offrir à mes clients des photos uniques de leur mariage, spontanées, authentiques, remplies de tendresse et d'émotion.La photographie de mariage est un art à part entière ; il s'agit de capturer les moments les plus intenses, les plus drôles, tout en tenant compte des contraintes techniques de cette journée.J'évite la photographie académique et suranée, pour donner à mes photographies de l'élégance, de la poésie, mais aussi de la modernité, en y apposant l'âme de votre mariage.Pendant un mariage, je prends en photo votre famille, vos invités, et je n'oublie pas la photographie d'enfants, car souvent la journée leur appartient aussi !
Ivan Franchet photographe mariage international Love and Wedding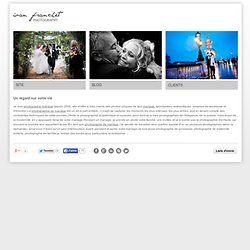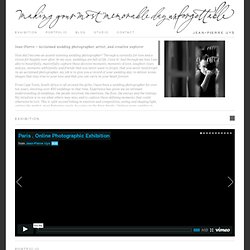 Jean-Pierre Uys Photography | Cape Town | South Africa
Jean-Pierre – Acclaimed wedding photographer, artist, and creative explorer How did I become an award-winning wedding photographer? Through a curiosity for love and a vision for happily ever after. In my eyes, weddings are full of life. I love it!
Ben Chrisman Photography: Best destination wedding photographers
angelica glass photography
Southern California Professional Photographer Southern CA Weddin
Los Angeles Wedding Photographer | Joy Marie Photography | Nashv
Seattle Wedding, Lifestyle, & Boudoir Photographer Laurel McConn
It's 2014. A good week and a half in to 2014 actually. And there is this big beautiful blank slate looking out ahead of us of everything that this year might be. Of all the things we hope to accomplish. Of the better version of ourselves we want to be. Of dreams that have not yet been chased, and fears that have not yet been leaned in to.
Justin & Mary - Photography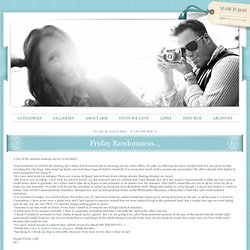 Roberto Valenzuela Wedding Photographer
kudegraphy
I have been busy travelling and working on wedding assignments in UK and overseas. While I am travelling, I also have to work on my clients' wedding photos. I am sorry that I am not able to update my blog as frequently as before. I can assure you that it will be better in August!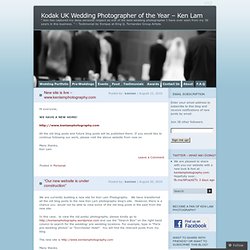 Kodak UK Wedding Photographer of the Year – Ken Lam
Vancouver Island Wedding Photographer | Jenna Shouldice
Jay Lawrence Goldman | Fine Art Los Angeles Wedding Photography
Jeff Newsom - Wedding Photographer - San Luis Obispo, Santa Barb
Boutwell Home
J Garner Photography
Poser : Image
Wedding & Portrait Photography in Chicago | Bob & Dawn Davis
John & Joseph Photography Inc. - Wedding Photographers - Los Ang
Documentary Nottingham Wedding Photographers, Derby Wedding Phot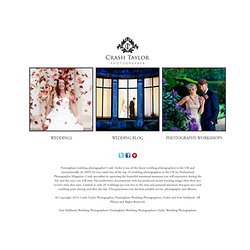 Nottingham wedding photographer Crash Taylor is one of the finest wedding photographers in the UK and internationally. In 2009, he was voted one of the top 10 wedding photographers in the UK by Professional Photographer Magazine. Crash specialises in capturing the beautiful emotional moments you will experience during the day and the ones you will miss. His unobtrusive documentary style has produced award winning images that elicit rave reviews time after time. Limited to only 20 weddings per year due to the time and personal attention that goes into each wedding prior, during and after the day. This guarantees you the best possible service, photography and albums.
amy & stuart
The world's best wedding photos of 2009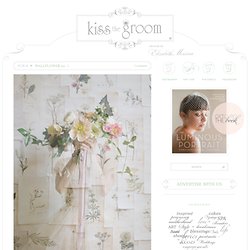 a little more sweetness...
Cheri Pearl Photography
Caroline Tran Photographer | Los Angeles Wedding, Boudoir, Mater
Dave Robbins Photography - Home
{ CHENNERGY } international wedding photo/video
Belathée Photography - New York
Garrett Nudd Photographer - Orlando - Chattanooga - Atlanta - De
"San Francisco wedding photographer, Bambi Cantrell, serving: Sa
Ira Lippke Studios - Wedding photography in New York, Los Angele
Max Wanger Photography
Yervant

Lisa Lefkowitz | Fine Art Photography
Publications Martha Stewart Weddings Summer 2008 Martha Stewart Weddings Winter 2006 Elegant Bride Winter 2007
Wedding Photography | Engagements | Portraits at Desi Baytan Pho
Stephanie Williams - Photographer - Weddings, Portraits, Destina
International destination wedding photographer -- Los Angeles, O
Sloan Photographers
Christina+Nathan Miscellany N° 2 Couples N° 2 Wedding N° 1 Wedding N° 2
SEATTLE WEDDING PHOTOGRAPHER
Christian Oth Studio NY | New York Wedding Photographers & Desti
Corbin Gurkin
Sarah Yates Los Angeles and Destination Wedding Photography
Natalie Moser Photography : Award Winning Wedding and Lifestyle
JENNIFER SKOG {skog as in vogue}
THE IMAGE IS FOUND . PHOTOGRAPHY