Paper
DIY Gold Leaf Notepads | Hello!Lucky Blog. Lately we've been following a new craze popping up around the web.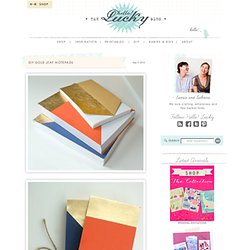 Gold leaf, historically used as an art medium, has now turned into one of the trendiest decor accessories this year. We've seen it on picture frames, furniture, fingernails, and jewelry, and once we saw Eat Sleep Cuddle use it for handmade notebooks we knew we had to give it a shot. Tutorial aging paper by ~Joshua-Mozes on deviantART. Genius-or-stupid-11.jpg (500×1561) Paint chip calendar | Maple and Magnolia. A few weeks ago, I saw this paint chip calendar on my friend David's blog Cheltenham Road and knew I had to make one!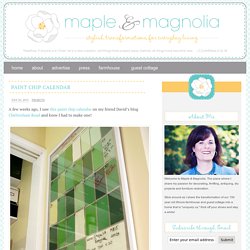 It combines two things that I love…stylishness and organization. And the fact that it utilizes paint chips? Dl.dropbox.com/u/505801/TU_typeone/twittertype/accordion_5x5.pdf. Craftside: Don't be a "Square" try a Triangle folded book from Creating Books & Boxes. As promised-here is a wonderful "how-to" for the Triangle Accordion Book I shared with you in yesterday's post.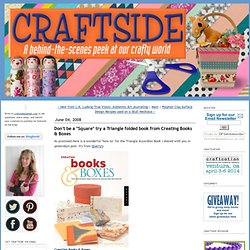 It's from Quarry's: Creating Books & Boxes:Fun and Unique Approaches to Handmade StructuresByBenjamin D. Rinehart. Nature-Inspired Paper Projects. Branch Out A white vase becomes a statement piece with a quick paper transfer.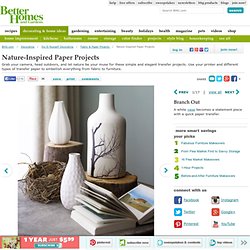 Dunked Designs Print your photo on Lazertran paper, making sure the image prints on the chalky eggshell side. Let dry for 30 minutes. Cut the image to size. Soak the printout facedown in a pan of water for about a minute. 25 DIY Interior Decorating Ideas To Use Maps. Home design DIY Kids Weddings Fashion and Style FOOD Cool stuff 25 DIY Interior Decorating Ideas To Use Maps.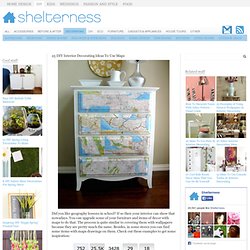 Mobile #001 Balloon « PaperMatrix. Anna has designed and made the pattern for these cute small hot air balloons.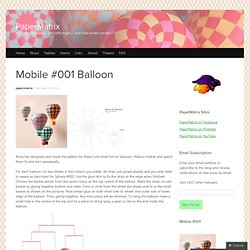 Make a mobile and watch them fly and turn perpetually. For each balloon cut two sheets in the colours you prefer. All strips are joined already and you only need to weave as described for Sphere #001. The making of an origami Koi in stop motion. DIY Cupid's Arrow Cupcake + Treat Bag Toppers. Hello sweets!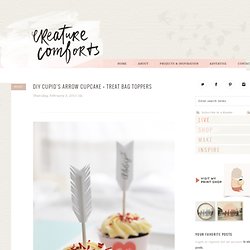 Back in November (during the madness of the holidays) Fossil got in touch and asked if I would like to create a Valentine DIY project to share on their site. I love Fossil, so my answer was a quick "yes." I ended up dreaming up a sweet little set that is perfect for a Valentine's Day party for both kids or adults, or just for one special someone: Cupid's Arrow Cupcake Toppers and Cupcake Bands (see how the cupcakes look like they've been shot by Cupid's arrow!). Paint chip bookmarks.
Looks like I'm on a bookmark kick.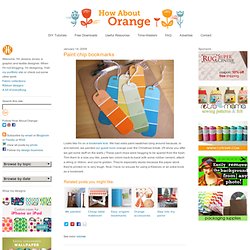 We had extra paint swatches lying around because, lo and behold, we painted our guest room orange over the Christmas break. (I'll show you after we get some stuff on the walls.) These paint chips were begging to be spared from the trash. Trim them to a size you like, paste two colors back-to-back with some rubber cement, attach a string or ribbon, and you're golden. They're especially sturdy because the paper stock they're printed on is very tough. Bokmärken – Craft of the Day, bookmarks. Du behöver: Kuvert (återanvänd gärna gamla kuvert), ett ark med vitt papper (för mallen), sax, penna, lim och ett mönstrat papper.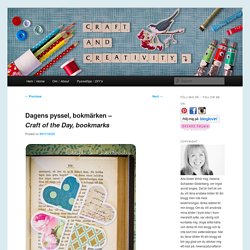 Inspiration till detta pyssel kommer från The Creative Homemaker. Fler varianter på samma tema finns här och här. Gör så här: Vik ett enkelt vitt papper diagonalt. Bow tie paper clips from fabric scraps. I had a couple little scraps left over from stiffened fabric projects, and after fiddling with them, I noticed they'd easily make tiny bows.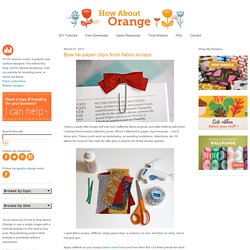 Which I attached to paper clips because... I don't know why. These could work as bookmarks, on wedding invitations, Valentines, etc. DIY Fri: Map Card and Envelope. This two-piece stationary set is the perfect kitschy DIY project for the end of summer. You can make this for someone going on an out of town excursion, for your own travels, or to give with a present. I made a couple just 'cause they're cute! Carambola Flowers by Carmen Sprung. If you've been following me on Flickr for a while, you've probably seen this picture of Carambola Flowers before – I folded them ages ago!
But since my Pro account is going to expire in a few days time (and I don't feel like upgrading it again), a lot of my old photos won't be displayed anymore. So I decided it would be a good idea to share the very best of them on my blog! These absolutely beautiful origami flowers were designed by Carmen Sprung and I just love them! How to make boxes from paint swatches. If you've got paint chips sitting around begging to be made into something, try folding them into boxes for paperclips, thumbtacks, party favor candies, or tiny gifts. I made these from Behr swatches, available at Home Depot. You'll need paint swatches, double-stick tape, an X-acto knife, ruler, and cutting mat. For the box bottom, cut a 1/2" strip off each of the two rounded ends of the swatch.
---