Rechercher
Recherche avancée. Aide pour la recherche standard : Les bases de la recherche Google - Centre d'aide Recherche sur le Web. Learn a few tips and tricks to help you easily find information on Google.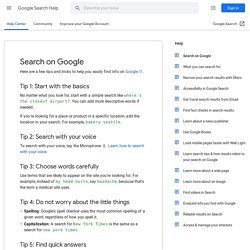 Tip 1: Keep it simple No matter what you're looking for, try to start with a simple search like [where's the closest airport?]. You can always add a few descriptive words if necessary. If you're looking for a place or product in a specific location, add the location. Google Scholar. Scirus - for scientific information. World. OAIster [OCLC - Digital Collection Services] Access to OAIster A freely-accessible site for searching only OAIster records is available at Additionally, OAIster records are fully accessible through WorldCat.org, and will be included in WorldCat.org search results along with records from thousands of libraries worldwide.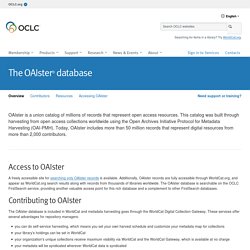 They will also continue to be available on the OCLC FirstSearch service to Base Package subscribers, providing another valuable access point for this rich database and a complement to other FirstSearch databases. Contributing to OAIster. Sweet Search. Wolfram|Alpha?Computational Knowledge Engine. Web Search.
---