48h
Who's to Blame: Us As much as we love the open, unfettered Web, we're abandoning it for simpler, sleeker services that just work. by Chris Anderson You wake up and check your email on your bedside iPad — that's one app. During breakfast you browse Facebook, Twitter, and The New York Times — three more apps. On the way to the office, you listen to a podcast on your smartphone.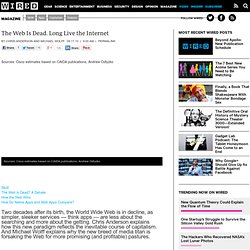 Longshot Magazine
El mural de Longshot Magazine
IMG_0512 | Flickr: Intercambio de fotos
Longue vie à Longshot : Le Magazine imaginé par des journalistes, créé par tous. | ReadWriteWeb France
"LongShot", un magazine en 2 jours, 3 mouvements - Nouvelles technos
Un thème + deux jours de travail = un magazine de 60 pages . Ce pourrait être le slogan de LongShot , entreprise journalistique pour le moins originale. Concrètement, il s'agit « d'une expérience tapageuse dans l'utilisation de nouveaux outils pour effacer les vieilles limites des médias » , comme dit le site.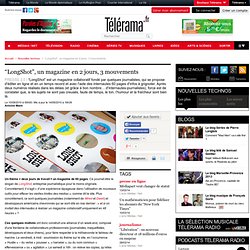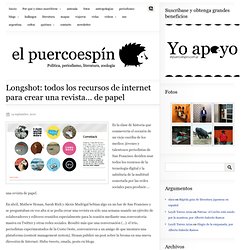 Es la clase de historia que conmovería el corazón de un viejo escriba de los medios: jóvenes y talentosos periodistas de San Francisco deciden usar todos los recursos de la tecnología digital y la sabiduría de la multitud conectada por las redes sociales para producir…. una revista de papel. En abril, Mathew Honan, Sarah Rich y Alexis Madrigal bebían algo en un bar de San Francisco y se preguntaban en voz alta si se podía crear una revista en sólo una semana usando un ejército de colaboradores y editores reunidos especialmente para la ocasión mediante una convocatoria masiva en Twitter y otras redes sociales. Resultó más que una conversación (…): el trío, periodistas experimentados de la Costa Oeste, convencieron a un amigo de que montara una plataforma (content management system), Honan publicó un post sobre la broma en una nueva dirección de Internet. Hubo tweets, emails, posts en blogs. Arrancó.
Longshot: todos los recursos de internet para crear una revista… de papel
Longshot Magazine | Issue One
Longshot Magazine (longshotmag) on Twitter
Longshot!