e-science
Get flash to fully experience Pearltrees
This guest blog from John Peters, CEO of GSE Research is a sneak peek of his presentation at the ALPSP Digital Strategy Seminar, taking place in London on 9th February 2012 . Markets in transition give rise to fascinating anomalies. Take the car as an example. When they first appeared in the 1860s automobiles (then steam-powered) were capable of travelling much faster than horse-drawn vehicles. Yet the British government thought they were potentially so dangerous to other road users that it introduced The Red Flag Acts in 1865, limiting their speeds to 2 miles an hour and requiring all cars to be preceded through the streets by a man on foot waving a red flag.
View Larger Map In anticipation of our science communication event this month , we've been thinking about the topic which is discussed using the #SciComm hashtag on Twitter. We started looking at more than 5000 Twitter status updates tagged with #SciComm from the last nine months and found that the group is scientifically diverse but singular in their passion to improve the way information is exchanged.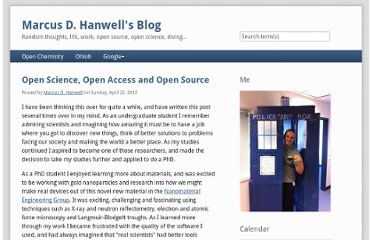 I have been thinking this over for quite a while, and have written this post several times over in my mind. As an undergraduate student I remember admiring scientists and imagining how amazing it must be to have a job where you got to discover new things, think of better solutions to problems facing our society and making the world a better place. As my studies continued I aspired to become one of those researchers, and made the decision to take my studies further and applied to do a PhD. As a PhD student I enjoyed learning more about materials, and was excited to be working with gold nanoparticles and research into how we might make real devices out of this novel new material in the Nanomaterial Engineering Group .
For the last year, my colleagues and I at Institute for the Future have been researching the future of science to identify big areas of science we think will have a transformative impact over the next decade. We read a lot of papers, conducted interviews, hosted an Open Science unconference, held an expert workshop with researchers from UC Berkeley, Stanford, MIT, UC Davis, SETI, and private industry, and spent many weeks synthesizing what we learned. The result is this map, titled " A Multiverse of Exploration: The Future of Science 2021 ."
Evaluation de la recherche
Réseaux sociaux de chercheurs
Pratiques de la recherche