Mobile Tech/Apps
Head Tracking for iPad: Glasses-Free 3D Display. Mobile Statistics, Stats & Facts 2011  Microsoft Tag has just released a neat infographic highlighting statistics on how people are using mobile phones in 2011.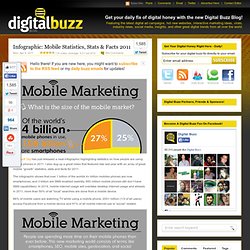 I also dug up a great video that featured late last year with an array of great mobile "growth" statistics, stats and facts for 2011. The infographic shows that over 1 billion of the worlds 4+ billion mobiles phones are now smartphones, and 3 billion are SMS enabled (weirdly, 950 million mobile phones still don't have SMS capabilities). In 2014, mobile internet usage will overtake desktop internet usage and already in 2011, more than 50% of all "local" searches are done from a mobile device. 86% of mobile users are watching TV while using a mobile phone, 200+ million (1/3 of all users) access Facebook from a mobile device and 91% of all mobile internet use is "social" related. RIP, RIM. April 28, 2011, 10:35 PM — Research in Motion (NASDAQ: RIMM), Canadian maker of the BlackBerry, on Thursday warned investors that disappointing shipments of its flagship smartphone will result in lower-than-expected earnings for the current quarter.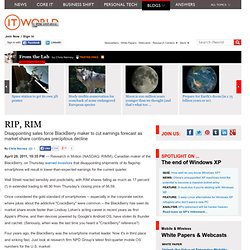 Wall Street reacted sensibly and predictably, with RIM shares falling as much as 17 percent (!) In extended trading to 46.90 from Thursday's closing price of 56.59. CrossPlatformMobile. Programming platforms · tools · mobile tags: With the rise of so many mobile platforms, each with a different UI, many people are looking at cross-platform toolkits.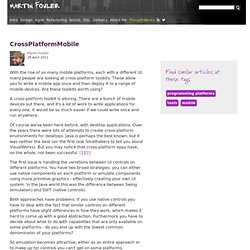 These allow you to write a mobile app once and then deploy it to a range of mobile devices. Gigwalk Allows iPhone Owners to Stumble Into Part-Time Work | Ina Fried | Mobilized | AllThingsD. The idea of using the Internet to parse out small jobs is not new.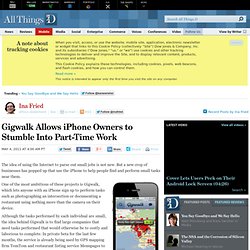 But a new crop of businesses has popped up that use the iPhone to help people find and perform small tasks near them. One of the most ambitious of these projects is Gigwalk, which lets anyone with an iPhone sign up to perform tasks such as photographing an intersection or documenting a restaurant using nothing more than the camera on their device. Although the tasks performed by each individual are small, the idea behind Gigwalk is to find large companies that need tasks performed that would otherwise be to costly and laborious to complete.
In private beta for the last few months, the service is already being used by GPS mapping firm TomTom and restaurant listing service Menupages to crowdsource tasks that are core to their businesses. "You can take care of a lot of scenarios that were too expensive or too slow," says CEO Ariel Seidman, who left Yahoo and started Gigwalk with two other former Yahoo workers last year. How can I put my app in front of millions of new users. Your company's own app store. Private "storefronts" let corporations outfit employees with homegrown business apps.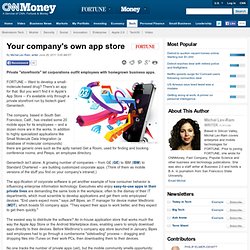 FORTUNE -- Want to develop a small-molecule-based drug? There's an app for that. But you won't find it in Apple's App Store -- it's available only through a private storefront run by biotech giant Genentech. The company, based in South San Francisco, Calif., has created some 20 mobile apps for its employees -- and a dozen more are in the works. Revolutionary new paper computer shows flexible future for smartphones and tablets. The world's first interactive paper computer is set to revolutionize the world of interactive computing.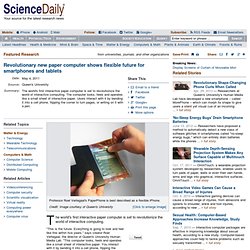 "This is the future. Everything is going to look and feel like this within five years," says creator Roel Vertegaal, the director of Queen's University Human Media Lab. "This computer looks, feels and operates like a small sheet of interactive paper. You interact with it by bending it into a cell phone, flipping the corner to turn pages, or writing on it with a pen. " The smartphone prototype, called PaperPhone is best described as a flexible iPhone -- it does everything a smartphone does, like store books, play music or make phone calls. A cheat sheet for App Store pricing. Eddie Smith on App Store prices: It might sound weird coming from a non-seller of apps, but I like seeing higher prices in the App Store.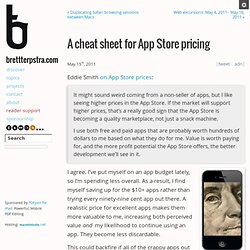 If the market will support higher prices, that's a really good sign that the App Store is becoming a quality marketplace, not just a snack machine. HP: TouchPad's WebOS Threatens Android, Apple iOS. Richard Kerris, the former Apple exec, is gliding through his presentation of HP's TouchPad.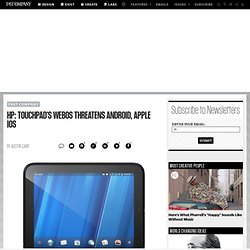 As the current VP of worldwide developer relations for WebOS, the slick software giving life to HP's latest mobile devices, Kerris is giddily running through the tablet's bells and whistles: the design, the partnerships, the apps, the engineering. But suddenly our discussion is interrupted by the sound of woodwinds, dancing up the scale. The sound is familiar. It's the iPhone's classic marimba ringtone.
Only it's not a song in the distance--it's coming from my pocket. Native Apps Or Web Apps? Particle Code Wants You To Do Both. When it comes to app development for mobile devices, cross-platform implementation is the new hot thing.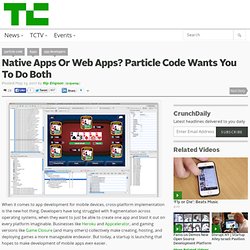 Developers have long struggled with fragmentation across operating systems, when they want to just be able to create one app and blast it out on every platform imaginable. Businesses like Heroku and Appcelerator, and gaming versions like Game Closure (and many others) collectively make creating, hosting, and deploying games a more manageable endeavor. But today, a startup is launching that hopes to make development of mobile apps even easier.
Palo Alto-based Particle Code is building a platform that enables mobile developers to write mobile apps and games once, deploy both HTML5 and native apps across platforms and devices — all from within a single codebase. Particle Code is built on the Eclipse IDE, an environment and suite of tools for Java developers, and supports development in a wide array of languages including Java, C# and ActionScript3. Tendances. Top 10 Mobile Internet Trends (Feb 2011) iPads, Android tablets and smartphones join the military. News March 16, 2011 05:59 AM ET Computerworld - Shooting turtles or attacking enemy warplanes with game apps on an iPad is child's play compared to the apps two military contractors are planning for use with low-cost, consumer-grade tablets and smartphones.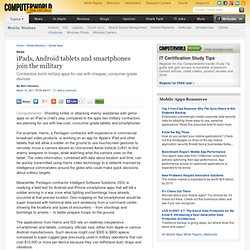 For example, Harris, a Pentagon contractor with experience in commercial broadcast video products, is working on an app for Apple's iPad and other tablets that will allow a soldier on the ground to use touchscreen gestures to remotely move a camera aboard an Unmanned Aerial Vehicle (UAV) to find enemy weapons or troops, while watching what the camera sees on the tablet.
Mobile Megatrends 2011. [We 're excited to release our fourth annual Mobile Megatrends 2011 – themed around what else? How software is fundamentally changing the telecoms value chain. In this fourth annual research presentation we take a deep dive into the many facets of change in the mobile industry; the DELL-ification of mobile, the battle for experience ecosystems, apps as web 3.0, the use of open + closed strategies to commodise + protect and how telcos can compete in the age of software.] After many months in the making, we 've released our annual Mobile Megatrends 2011. Appstores.com. This is the Creepy, Super Cool Future of Smartphones & Social Networks. There's very little gray area on this one: You're either completely excited by the potential for built-in facial recognition combined with smartphones and social networks, or your entirely creeped out and afraid for the future of the planet.
The future is nearly here and I, for one, welcome our new overlords, who today come to us in the form of a Silicon Valley company called Viewdle that we first wrote about last October. Read on to find out how they plan to make what you see above a reality.
---