CIO Stuff
How I Helped Invent the Touchscreen in 1979 at Xerox PARC | Co.Design. It has been thirty-three years since I was thrown head first and feet kicking from the comforts of Xerox's design lab into the world of brilliant psychologists and programmers working at Xerox PARC on the first touch-screen interface.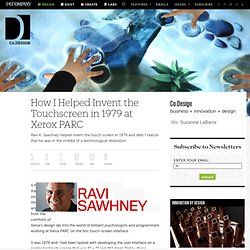 It was 1979 and I had been tasked with developing the user interface on a computer touch-screen that was 5? X 7? And 16? Deep! Cutwail-LEET11.pdf (application/pdf Object) IBM researchers create nanomedicine to kill bacteria where antibiotics fail. IBM and a research group in Singapore have engineered a new kind of synthetic, biodegradable nano particle that could be used to attack bacteria that have become resistant to antibiotics.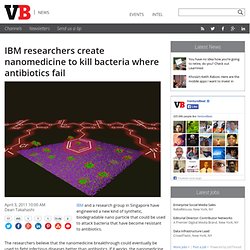 The researchers believe that the nanomedicine breakthrough could eventually be used to fight infectious diseases better than antibiotics. If it works, the nanomedicine could save countless lives and protect people from illnesses that arise from bacterial infections, like staph. Using a trick from chip manufacturing, the researchers figured out how to isolate certain kinds of cells and attack them. That gets around the problem of many drugs today that kill off the good red blood cells at the same time that they eradicate bad cells. The researchers said the synthetic polymers they created can seek out bacteria cells and destroy their membrane walls. Powerful Online Business Management Software: Online Project Management Software, Online Sales and CRM, Service Support and Accounting Sofware.
Free Online Course Materials. Quadrocopters juggle balls cooperatively, mesmerize with their lethal accuracy (video) You've seen one quadrocopter juggle a ball autonomously while gliding through the air, but how's about a pair of them working cooperatively?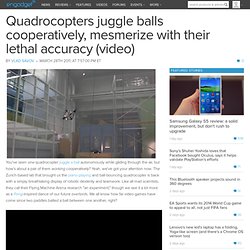 Yeah, we've got your attention now. The Zurich-based lab that brought us the piano-playing and ball-bouncing quadrocopter is back with a simply breathtaking display of robotic dexterity and teamwork. Miniature lasers could help launch new age of the Internet. A new laser device created at the University of Central Florida could make high-speed computing faster and more reliable, opening the door to a new age of the Internet.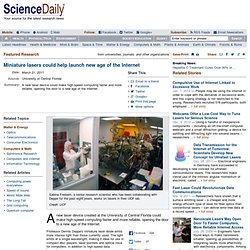 Professor Dennis Deppe's miniature laser diode emits more intense light than those currently used. The light emits at a single wavelength, making it ideal for use in compact disc players, laser pointers and optical mice for computers, in addition to high-speed data transmission. Until now, the biggest challenge has been the failure rate of these tiny devices.
They don't work very well when they face huge workloads; the stress makes them crack. The smaller size and elimination of non-semiconductor materials means the new devices could potentially be used in heavy data transmission, which is critical in developing the next generation of the Internet. Software & Information Industry Association - SIIA: Software & Information Industry Association. New Tech. 25 Years of Computer Virus Evolution, Condensed to 9 Minutes. We're sure you're all familiar with Conficker, but that's just one blip in the long and storied history of computer viruses.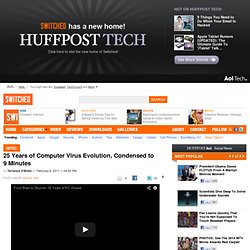 F-Secure put together a nine-minute video tracing the evolution of viruses from the very first (Brain), to non-destructive joke viruses of the early '90s (Walker), all the way up to the nuclear plant-crippling cyber-weapons (Stuxnet). Tags: conficker, fsecure, security, stuxnet, top, virus, viruses, walker, web, worms. Global Energy Industry Hit In "Night Dragon" Attacks. In 2010 McAfee Labs processed an average of almost 55,000 pieces of new malware every day.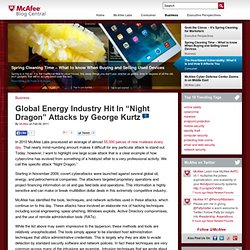 That nearly mind-numbing amount makes it difficult for any particular attack to stand out. Today, however, I want to highlight one large scale attack that is a clear example of how cybercrime has evolved from something of a hobbyist affair to a very professional activity. Future of cloud: App Internet - connected business - management. Patent Office Struggles to Catch Up With Technology. Internet Business Search by BizShark. Dataopedia.com - All you need to know about a website. The Changelog - Open Source moves fast. Keep up. Private Beta Invites for Big Data/Map reduce/Hadoop Company – MapFreeduce.com | Bazamm! Posted on 16 February 2011 by Colin Osburn Are you interested in " Big Data ?"
Do you use map reduce? Hadoop? If so, we would love to talk to you. California Supreme Court Rules That a ZIP Code is Personal Identification Information -- Pineda v. Williams-Sonoma. [Post by Venkat Balasubramani] Pineda v.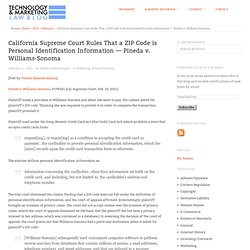 Williams-Sonoma, S178241 (Cal. Supreme Court; Feb. 10, 2011) Plaintiff made a purchase at Williams-Sonoma and when she went to pay, the cashier asked for plaintiff's ZIP code. IPads Storm the Enterprise CIO.com. Network World - As global accounts director at Altus, Inc., Michelle Klatt's job is to visit Fortune 500 companies and demonstrate her firm's video management software.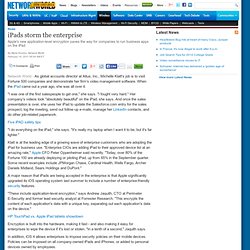 When the iPad came out a year ago, she was all over it. "I was one of the first salespeople to get one," she says.
---