Content Management Systems
35 Beautiful Commercial And Free Joomla Templates - Smashing Mag
Joomla is one of the most powerful, robust and feature-rich content management systems out there. Besides being open-source, Joomla is capable of some really stunning designs through the use of modules and built-in display customizations. Below, we present a list of 20 35 of the coolest, slickest, most eye-catching Joomla template designs.
Wordpress, Joomla or Drupal - Which CMS should you choose?
It was only time that kept bloggers around the world from writing their comparisons of the three major Content Management Systems (Wordpress, Joomla and Drupal) - and that time is finally up.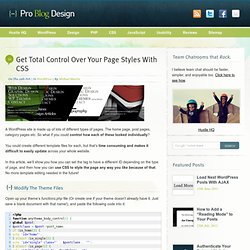 Get Total Control Over Your Page Styles With CSS | Pro Blog Desi
A WordPress site is made up of lots of different types of pages.
WordPress and Facebook Consultant | (Anti) Social Development
PHP.help! : resources for web developers