Books
Peter V Brett, Author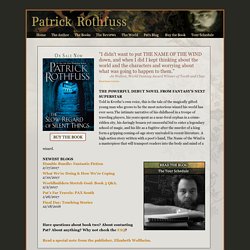 Read more reviews THE POWERFUL DEBUT NOVEL FROM FANTASY'S NEXT SUPERSTAR Told in Kvothe's own voice, this is the tale of the magically gifted young man who grows to be the most notorious wizard his world has ever seen.The intimate narrative of his childhood in a troupe of traveling players, his years spent as a near-feral orphan in a crime-ridden city, his daringly brazen yet successful bid to enter a legendary school of magic, and his life as a fugitive after the murder of a king form a gripping coming-of-age story unrivaled in recent literature. A high-action story written with a poet's hand, The Name of the Wind is a masterpiece that will transport readers into the body and mind of a wizard.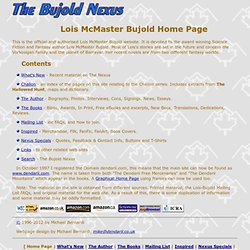 This is the official and authorised Lois McMaster Bujold website. It is devoted to the award winning Science Fiction and Fantasy author Lois McMaster Bujold. Most of Lois's stories are set in the future and concern the Vorkosigan family and the planet of Barrayar.
The Bujold Nexus - The Lois McMaster Bujold Homepage
Joe Abercrombie |
Worldbuilders hit its goal, so we're going to give this write-a-thon thing a try. I've settled on this Friday, January 17th, from 2:00 p.m. Mountain time until 7:00 p.m.
Westeros Pack Charity Auction FEB 19th – 26th February 17, 2014 Help the Wild Spirit Wolf Sancturay build a new home for THE WESTEROS PACK, a pack of ten rescued Arctic hybrid Wolves named after characters in A Song of Ice and Fire series.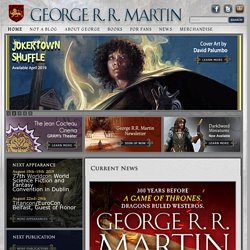 The Arkenstone (Hobbit Card Game) Artwork for The Hobbit Card Game; Sophisticated Games, Cambridge UK 2012. All works gouache on board, 3 ¾" x 5 ¾" "That stone of all the treasure I name unto myself, and I will be avenged on anyone who finds it and withholds it."― Thorin[1] "The Arkenstone was discovered by Thráin I soon after the establishment of the dwarf-kingdom …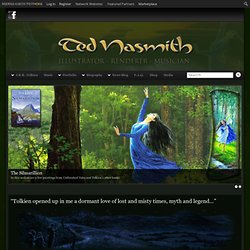 Terry Goodkind: The Official Author Website