Twitter/Blogs
45 Simple Twitter Tips Everyone Should Know About. Are you a tweetin' teacher?
Do you rely on tweets for your extended PLN ? Whether you use the service or not, there's a whole world of information being shared and you should start taking part. But if you've been too nervous or unsure about HOW to actually use Twitter as efficiently as possible… the wait is over. Top 36 Social Networks for Educators. Part 2 Update : Part 3 has been posted check it out after you read this.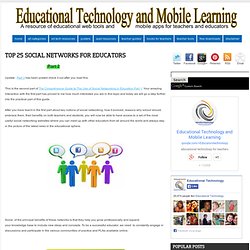 This is the second part of The Comprehesive Guide to The Use of Social Networking in Education Part 1. Your amazing interaction with the first part has proved to me how much interested you are in this topic and today we will go a step further into the practical part of this guide. After you have learnt in the first part about key notions of social networking, how it evolved, reasons why school should embrace them, their benefits on both teachers and students, you will now be able to have access to a set of the most useful social networking websites where you can meet up with other educators from all around the world and always stay in the picture of the latest news in the educational sphere.
Some of the principal benefits of these networks is that they help you grow professionally and expand your knowledge base to include new ideas and concepts. The 2012 A-Z List Of Educational Twitter Hashtags. We got so many additions and updates to our 2011 list we thought it was time to bring you the most up-to-date list for 2012.
So, without further ado, here's the 2012 A-Z list of educational Twitter hashtags. We went through all the comments on the 2011 version , wrote down all the Twitter and Facebook updates, and compiled this list over the course of several months. What follows is our best effort to bring you the biggest and baddest list of hashtags. I'm sure we still missed some as new hashtags seemingly pop up every day. In any case, let us know what we missed in the comments or on our Facebook page!
The Honor Roll: 50 Must-Read K–12 Education IT Blogs. There's no question that technology has transformed the classroom.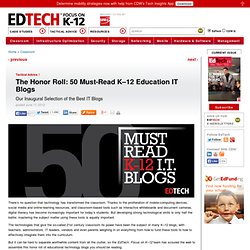 Thanks to the proliferation of mobile-computing devices, social media and online-learning resources, and classroom-based tools such as interactive whiteboards and document cameras, digital literacy has become increasingly important for today's students. But developing strong technological skills is only half the battle; mastering the subject matter using these tools is equally important. The technologies that give the so-called 21st century classroom its power have been the subject of many K–12 blogs, with teachers, administrators, IT leaders, vendors and even parents weighing in on everything from how to fund these tools to how to effectively integrate them into the curriculum.
Twitter tools. GUIDE: Hashtags, RT etc. Why Twitter/PLN. Top 25 Language Learning Blogs 2012 – bab.la & Lexiophiles.
---