Other Subjects
Get flash to fully experience Pearltrees
I am working on a series of blog posts for the summer called Five for Friday.
Elgg: Grou.ps: Facebook: Linked In: Ning: General: Art: Classroom Networks: Conferences: Course Material: English as a Foreign Language: English as a Second Language: English Education (Pre- and In-Service): Russian Education: Georgian recruiting : French as a Foreign language : Language Learning: Leadership: Libraries Music: Other Languages Professional Development: Science: Social Studies: Spanish as a Foreign Language: Student Organizations: Teacher Education: Technology: Virtual Environments: Visual Mapping (Mind Mapping): Vocational: Other: A listing of social networks used in educational environments or for educational purposes.
This page is still in the process of changing. I have made separate pages for each day. Still need your help to figure out which chats are still active & when they meet.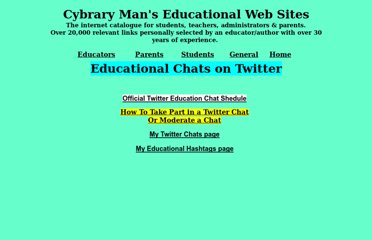 As some of you know, I don't have a television at home.