IT Resources
People toss around terms in education and attach the words "21st century" to appear cutting edge or on the front end of trending ideas. As a teacher in the 21st century, I find it amazing to see some of the things that are so-called 21st century and yet are no different from ideas from the 20th or even the 19th century. With that in mind, I reflected on what it takes to be a teacher in the 21st century and what such a teacher looks like.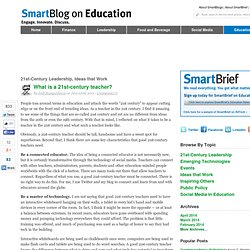 mguhlin_voicehreadtutorial.pdf (application/pdf Object)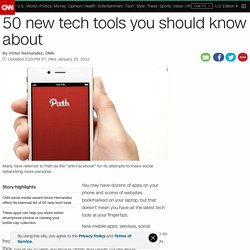 Many have referred to Path as the "anti-Facebook" for its attempts to make social networking more personal .
About - Digital Library
The Digital Library is a database of articles about successful VoiceThread projects.
This post was inspired by a request from a reader for a tool that can be used to mash-up YouTube clips. YouTube is full of great content that can be useful in the classroom (YouTube is also full of nonsense that causes schools to block it). Sometimes you only need to show a part of a video to illustrate a point.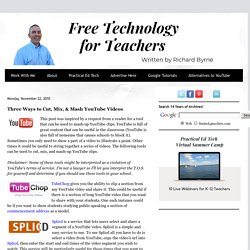 YouTube Mix&Mash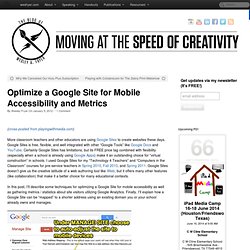 Optimize a Google Site for Mobile Accessibility and Metrics
(cross-posted from playingwithmedia.com) More classroom teachers and other educators are using Google Sites to create websites these days.
Easy File Sharing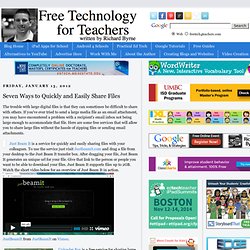 The trouble with large digital files is that they can sometimes be difficult to share with others. If you've ever tried to send a large media file as an email attachment, you may have encountered a problem with a recipient's email inbox not being large enough to accommodate that file. Here are some free services that will allow you to share large files without the hassle of zipping files or sending email attachments.
Now that my school year is over I'm taking a short fly fishing vacation. The posts for the rest of the week highlight my favorite resources of 2011 so far. Vyew is an online presentation tool that does not require you to download anything and can be used for free with up to 20 participants. Vyew offers tools for uploading slides and talking about them with other participants.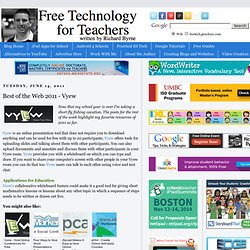 BestofWeb2011
Teaching Online