Chrome
QRreader beta. Google Chrome extensions. Yesterday, I published Ten Useful Google Chrome Web Apps and Extensions for Teachers and Students.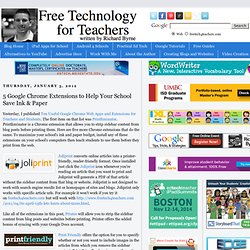 The first item on that list was Printliminator. Printliminator is a Chrome extension that allows you to strip sidebar content from blog posts before printing them. Here are five more Chrome extensions that do the same. To maximize your school's ink and paper budget, install any of these extensions on your school's computers then teach students to use them before they print from the web. Chrome Web Apps. As was reported by numerous news outlets, at the end of 2011 Google's Chrome surpassed Mozilla's Firefox to become the second most-used web browser.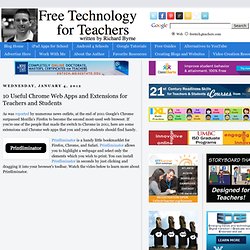 If you're one of the people that made the switch to Chrome in 2011, here are some extensions and Chrome web apps that you and your students should find handy. Printliminator is a handy little bookmarklet for Firefox, Chrome, and Safari. Chrome Ninja Extensions. Google Chrome allows you to personalize and customize your browser experience.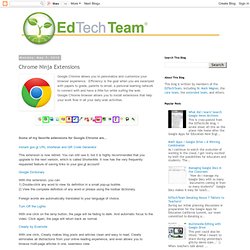 Efficiency is the goal when you are swamped with papers to grade, parents to email, a personal learning network to connect with and have a little fun while surfing the web.Google Chrome browser allows you to install extensions that help your work flow in all your daily web activities. Some of my favorite extensions for Google Chrome are... Instant goo.gl URL shortener and QR Code Generator.
---