Themes
<div class="greet_block wpgb_cornered"><div class="greet_text"><div class="greet_image"><a href="http://feeds2.feedburner.com/WPCult" rel="nofollow"><img src="http://wpcult.com/wp-content/plugins/wp-greet-box/images/rss_icon.png" alt="WP Greet Box icon"/></a></div>Hello there! If you are new here, you might want to <a href="http://feeds2.feedburner.com/WPCult" rel="nofollow"><strong>subscribe to the RSS feed</strong></a> for updates on this topic.</div></div><div style="clear:both"></div>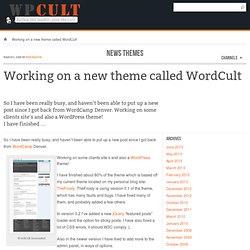 WordCult 0.2b A WordPress Theme by WPCult | WPCult
50 Fresh and Free WordPress 3 Series Compatible Themes
Do you use WordPress? I do.
Can You Trust Free WordPress Themes?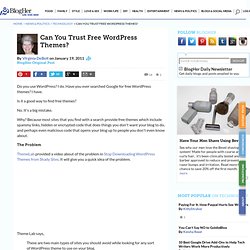 It's hard to believe that a year has passed since our last WordPress theme collection, but there you have it — the time has come again. Once a year we feature the most useful and interesting WordPress-themes that we are collecting over months and present them in a nice quick overview.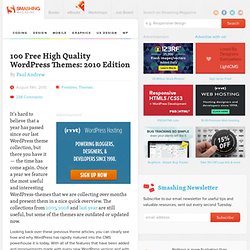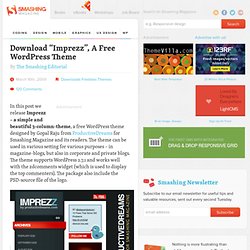 In this post we release Imprezz – a simple and beautiful 3-column-theme , a free WordPress theme designed by Gopal Raju from ProductiveDreams for Smashing Magazine and its readers.
Download Imprezz, A Free WordPress Theme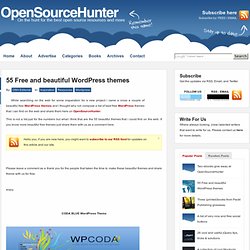 55 Free and beautiful WordPress themes By: OSH Editorial In: Inspiration Resources Wordpress While searching on the web for some insparation for a new project i came a cross a couple of beautiful free WordPress themes and I thought why not compose a list of best free WordPress themes that i can find on the web and share them here on OpenSourceHunter .
55 Free and beautiful WordPress themes | OpenSourceHunter
DemoPress| Just another WordPress weblog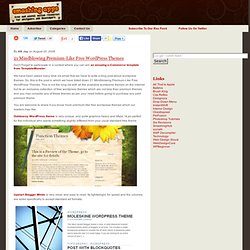 Don't Forget to participate in a contest where you can win the world's biggest UI elements pack "Impressionist User Interface Elements Pack" for 3 winners (1 developer license and 2 personal license) to design your project more creatively. We have been asked many time via email that we have to write a blog post about wordpress themes. So, this is the post in which we have listed down 21 Mindblowing Premium-Like Free WordPress Themes.
21 Mindblowing Premium-Like Free Wordpress Themes - Opensource, Free and Useful Online Resources for Designers and Developers
High-quality WordPress themes always come in handy.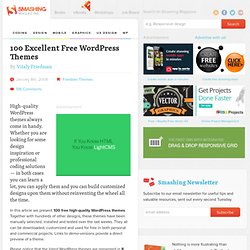 Sometimes it's just like searching for a needle in a haystack: if you've ever googled for free and quality WordPress Themes, you know exactly what we're talking about. Most designers love to create WordPress themes, so they can demonstrate the quality of their work and add some fresh works to their portfolios.