Teacher Professional Education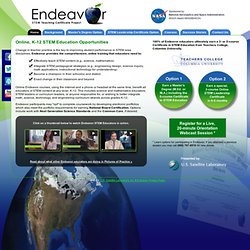 S T A G E, Short-courses to Transform and Advance Great Educators
Change in teacher practice is the key to improving student performance in STEM. The Endeavor Online STEM Certificate provides the comprehensive training educators need to effectively teach STEM content and integrate strategies within the core curriculum. Endeavor graduates become champions in their schools and districts leading efforts for STEM education and enacting change in their classrooms and beyond. Endeavor participants may choose to complete coursework with the development of electronic portfolios.
Brokers of Expertise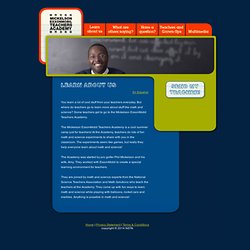 You learn a lot of cool stuff from your teachers everyday. But where do teachers go to learn more about stuff like math and science? Some teachers get to go to the Mickelson ExxonMobil Teachers Academy. The Mickelson ExxonMobil Teachers Academy is a cool summer camp just for teachers! At the Academy, teachers do lots of fun math and science experiments to share with you in the classroom.
Mickelson ExxonMobil Teachers Academy