Research Foundations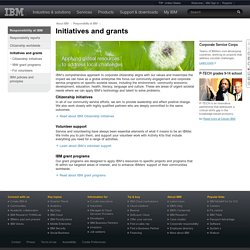 IBM's comprehensive approach to corporate citizenship aligns with our values and maximizes the impact we can have as a global enterprise.We focus our community engagement and corporate service programs on specific societal issues, including the environment, community economic development, education, health, literacy, language and culture. These are areas of urgent societal needs where we can apply IBM's technology and talent to solve problems. Citizenship initiatives In all of our community service efforts, we aim to provide leadership and effect positive change. We also work closely with highly qualified partners who are deeply committed to the same outcomes.
Education | Education
"Education is a human right with immense power to transform. On its foundation rest the cornerstones of freedom, democracy and sustainable human development." — Former UN Secretary General Kofi Annan
Foundation Center - Focus on Education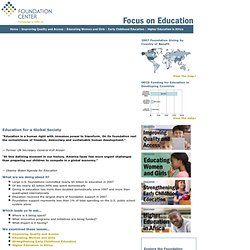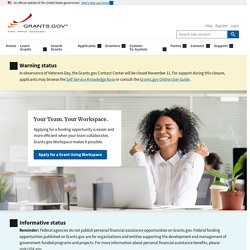 SAM Quick Start Guide For New Grantee Registrationand SAM Video Tutorial for New Applicants are tools created by the General Services Administration to assist those registering with the System for Award Management (SAM). If you have questions or concerns about your SAM registration, please contact the Federal Support desk at https://www.fsd.gov. Grants.gov Applicant Training Video - Need a quick lesson on how to Register, Find and Apply? Watch this short video to get tips on registering with Grants.gov; finding grant opportunities; understanding your search results; and, applying for opportunities.