Games
Get flash to fully experience Pearltrees
Recently I have re-discovered the pleasure of playing room escape games. You know them for sure: "point and click" to get out of the room. After playing day by day for several weeks, I decided to gather the room escapes that I liked the most into a list. Below you can see the result. Enjoy! Crimson Room – The well known escape!
At the start of this year, we decided to come up with a list of Flash casual games with a philosophical bent. To be honest, we struggled. After days of research, we could only find a handful of games that had the thought-provoking depth we were looking for.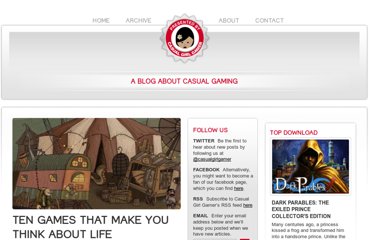 This is a really really fun game. by weyboom Apr 1
UPDATE: Guess-the-google is temporarily offline for maintenance. Hopefully back online soon. About the game Guess-the-google is an addictive guessing game based on Google's image search. It turns the mental activity of searching into a fun, visual and engaging game where people can enjoy the challenge of being the fastest and most efficient at making that connection between search terms and their results. The game requires version 9 of the Flash player or higher to run, you can get the latest version here .