Shopping Monde
Stuff for Smart Masses. UncommonGoods. Urban Outfitters. 1246 rue Sainte-Catherine O.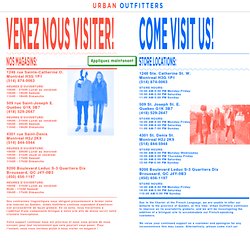 Montréal H3G 1P1 (514) 874-0063 HEURES D'OUVERTURE: 10h00 - 21h00 Lundi au vendredi 10h00 - 19h00 Samedi 11h00 - 18h00 Dimanche 509 rue Saint-Joseph E. Québec G1K 3B7 (418) 529-2647. Firebox.com - cool gifts, gadgets and gift ideas. Spoiled Brat. Stay cute! I saw this fireworks display from Burj Khalifa in Dubai and had to share...
It's incredible. Okay peeps, here's my wish for the new year... Patience, understanding, no smoking, call Mom, no harboring of negative thoughts, shop locally, eat organic, vote, support small businesses, drink in moderation, exercise, eat less red meat, read books, travel, pet the cats more, loose weight, ride bikes, write a novel, enjoy friends and family, say "hi" to passerbys, write thank you notes and LOVE LOVE LOVE.
Happy 2014 y'all.
---