Psychologie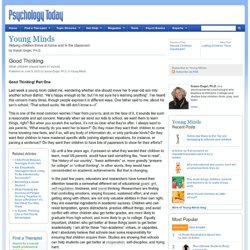 Good Thinking
Last week a young mom called me, wondering whether she should move her 8-year-old son into another school district. "He's happy enough so far, but I'm not sure he's learning anything". I've heard this concern many times, though people express it in different ways. One father said to me, about his son's school, "That school sucks.
Are You a Poor Communicator? Stop the Damage and Improve Relationships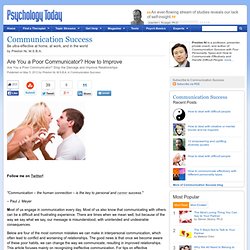 Paul J. Meyer ost of us engage in communication every day. Most of us also know that communicating with others can be a difficult and frustrating experience.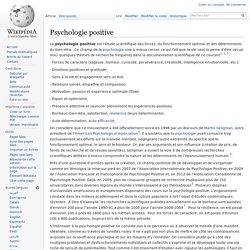 Un article de Wikipédia, l'encyclopédie libre. La psychologie positive est l'étude scientifique des forces, du fonctionnement optimal et des déterminants du bien-être. Ce champ de la psychologie vise à mieux cerner ce qui fait que la vie vaut la peine d'être vécue. Voici quelques thèmes de recherche fréquents dans la documentation scientifique de ce courant[1][2][3] : - Forces de caractère (valeurs en action); - Espoir et optimisme;
Psychologie positive (Wikipedia)
If money doesn't make you happy, then you probably aren't spending it right‏