Grow
Thegardennymph.tumblr. Growing a Healing Garden | Mama Knows. Rating: 7.9/10 (9 votes cast) When you visit your local market or garden centre, check out their herb selection.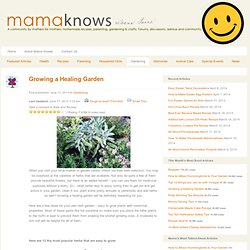 You may be surprised at the varieties of herbs that are available. Not only do quite a few of them provide beautiful flowers, but there is an added benefit – you can use them for medicinal purposes without a worry. So – what better way to enjoy spring then to get out and get active in your garden, clean it out, plant some pretty annuals or perennials and add herbs as well? Grow An Avocado Tree! - Organic Gardening Tips. Mooseys Country Garden. Grow Potatoes In 4 sqft (100#) Quite the clever gardening tip here folks!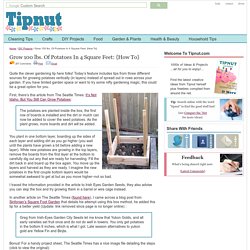 Today's feature includes tips from three different sources for growing potatoes vertically (in layers) instead of spread out in rows across your garden. If you have limited garden space or want to try some nifty gardening magic, this could be a great option for you. First, there's this article from The Seattle Times: It's Not Idaho, But You Still Can Grow Potatoes: The potatoes are planted inside the box, the first row of boards is installed and the dirt or mulch can now be added to cover the seed potatoes.
As the plant grows, more boards and dirt will be added. Growing a Healing Garden.
---