Linux
About PCLinuxOS » PCLinuxOS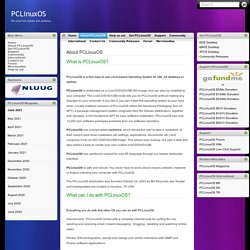 What is PCLinuxOS? PCLinuxOS is a free easy to use Linux-based Operating System for x86 desktops or laptops. PCLinuxOS is distributed as a LiveCD, and can also be installed to your computer. The LiveCD mode lets you try PCLInuxOS without making any changes to your computer. If you like it, you can install the operating system to your hard drive. Locally installed versions of PCLinuxOS utilize the Advanced Packaging Tool (or APT), a package management system (originally from the Debian distribution), together with Synaptic, a GUI frontend to APT for easy software installation.
Linux Mint 9 Review part 1 of 4
Welcome to JustLinux: Wanna learn Linux?
Security/Features
This page in maintained by Rahul Sundaram . Feel free to edit the wiki or contact the maintainer for any kind of feedback. Fedora is the thought and action leader in many of the latest Linux security initiatives. The following security features were developed by Fedora engineers.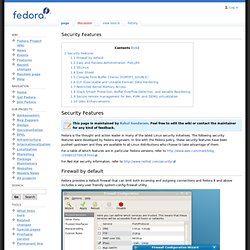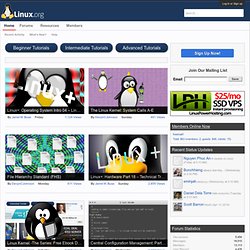 Linux.org is a user supported community website whose mission is to promote Linux through education. The content of this website is designed to be interacted with by the Linux Community. We look forward to your participation! We are currently in our beta/release stage. As the site grows, we will be adding more content and sections. Currently, you can log in to the site with a Facebook account OR by creating a user in our system.
Online - User Groups
Virus Scan A Windows Machine
How often do we all hear the phrase, "Could you take a look at it for me?" Whether you are checking out a machine for a friend or colleague or looking after one of your own machines, it's handy to have the ability to virus check a Windows setup from the safety of a Linux boot CD or USB stick. This short guide shows you how to scan for infected files by booting into SystemRescueCD and running ClamAV , a virus checker.
One of the most common programs on Linux systems for packaging files is the venerable tar. tar is short for tape archive, and originally, it would archive your files to a tape device. Now, you're more likely to use a file to make your archive. To use a tarfile, use the command-line option -f Instead of using a tarfile, you can output your tarfile to stdout or input your tarfile from stdin by using a hyphen (-). With these options, you can tar up a directory and all of its subdirectories by using: tar cf archive.tar dir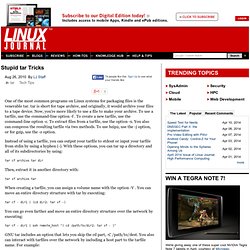 Stupid tar Tricks
Which Linux distribution do you primarily use on your Linux desktop? | TUX
We love Linux, and want to make it easier for others to do so, too. This first edition of the Lifehacker Pack for Linux includes our favorite apps that get things done and make your desktop great. Linux isn't quite like Windows or Mac, as there are many, many distributions, usually running on one of two desktop systems (GNOME or KDE).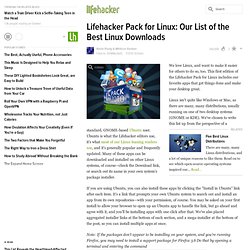 Making your system a triple boot box, this can help you achieve this. Triple boot XP and two linux (FC5 and Ubuntu 6.06 in my case) Hi, Now i want to share my experience of making my system a triple boot one. Ok what i have is a Desktop with a 120 Gigas SATA disk.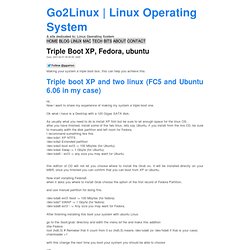 Triple Boot XP, Fedora, ubuntu | Linux Operating System - Debian, Ubuntu, Fedora, Gentoo, Arch
In Depth: How to dual-boot Linux and Windows