Analyse des réseaux DATA
PRGT pour la surveillance
PRTG monitors your network 24/7 to timely alert you to issues before they become emergencies. 150,000 sysadmins -- at organizations from small businesses through the Fortune 100 -- have used PRTG Network Monitor to make their networks faster, more responsive, and more reliable. PRTG fits into any budget and can grow with your needs. It will be the last network monitoring software you'll ever buy. Start your free trial (installation will only take 2 minutes) and see how PRTG can make your network more reliable and your job easier. Free DownloadYou will be up & running in less than 2 minutesLearn MoreFeatures, pricing, screenshots, and requirements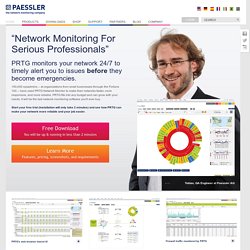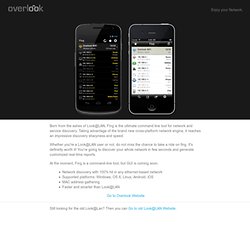 Born from the ashes of Look@LAN, Fing is the ultimate command line tool for network and service discovery. Taking advantage of the brand new cross-platform network engine, it reaches an impressive discovery sharpness and speed. Whether you're a Look@LAN user or not, do not miss the chance to take a ride on fing.
Fing for iOS Test App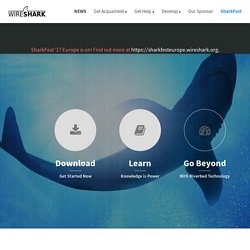 Riverbed is Wireshark's primary sponsor and provides our funding. They also make great products. Free 30 day trial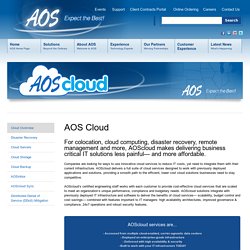 In 2011, AOS chose to expand our service offerings to better meet the needs of our customers and the growing desire to leverage cloud services and storage. AOS acquired a local data center company to provide first-class data center Infrastructure as a Service (IAAS) cloud services. With this acquisition, AOS is proud to offer an ever-expanding array of cloud-based solutions, including cloud storage and disaster recovery services. <a href="https://www.formstack.com/forms/?1250074-P9AkMGIlXN" title="Online Form">Online Form - AOSCloud.com</a>
Ethereal: A Network Protocol Analyzer
EtherApe
Overview of changes in EtherApe 0.9.13 (Sunday May 05, 2013): Central node option, useful for displaying routers or proxies. Translations and documentation updates, plus some fixes. OpenSUSE build service now provides binary packages for Fedora 17 and 18 and SLES 11 SP2.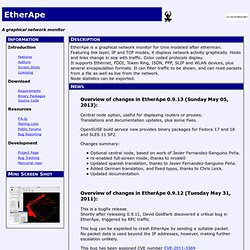 Packetyzer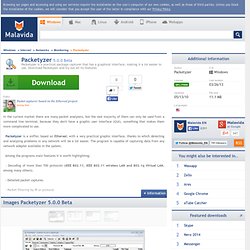 In the current market there are many packet analyzers, but the vast majority of them can only be used from a command line terminal, because they don't have a graphic user interface (GUI), something that makes them more complicated to use. Packetyzer is a sniffer, based on Ethereal, with a very practical graphic interface, thanks to which detecting and analyzing problems in any network will be a lot easier. The program is capable of capturing data from any network adapter available in the system.