OpenSourceSoftware
Tutorial — Bottle 0.13-dev documentation. This tutorial introduces you to the concepts and features of the Bottle web framework and covers basic and advanced topics alike.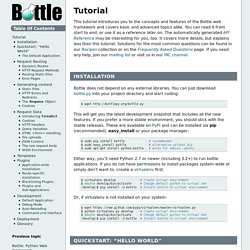 You can read it from start to end, or use it as a reference later on. The automatically generated API Reference may be interesting for you, too. It covers more details, but explains less than this tutorial. Welcome | Flask (A Python Microframework) Welcome to Mako! OpenLiteSpeed. Book. SMTP email configuration in XAMPP | Tips Tricks and Fix. Overview — Sphinx 1.1.3 documentation. CodeMirror. License. Open Culture. Open Source Software - Find, Evaluate, Collaborate - OStatic. Stacks.
Redmine Bug TrackingBug Tracking,Project Management,Developer Tools,MySQL,Ruby on Rails,Subversion,Phusion Passenger,Apache Drupal.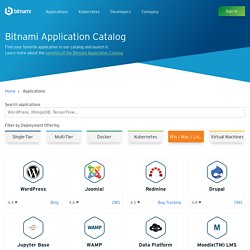 ElRTE - open source WYSIWYG editor for Web. IUP - Portable User Interface. By Blackboard is a free learning management system for K12 and Higher Ed Instructors enabling blended & eLearning. Skip to main content Introducing The New CourseSites Create up to 5 course websites, free.
Engage students in social learning. Free software for Education. Home - Pencil Project. Studio :: Home. Enterprise open source portal and collaboration software. - Liferay.com. MeMaker in Launchpad. Ajax Animator 0.20.05 Wave Beta. OpenShot Video Editor | Simple, powerful, and free video editor for Linux!
STLSoft - Robust, Lightweight, Cross-platform, Template Software. Free Software Directory. Open Font Library. Open Source Licenses by Category. Wiki on a Stick Official Website.
---