Spanish
Advanced Spanish Podcast 96 – Los Bomberos : Notes in Spanish – Learn Spanish with Podcast Audio Conversation from Spain. [Download MP3] Marta worked in a UK school for a while this year, and her experiences highlight just why the Brits can be uptight and the Spanish much more relaxed!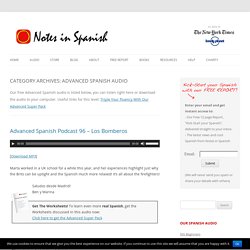 It's all about the firefighters! Elcorreo.com |Bizkaia| diario con las últimas noticias, fotos y vídeos de Bizkaia. English to French, Italian, German & Spanish Dictionary. ANTENA3.COM - Noticias - Series online - Televisión - Videos - Programas.
TELECINCO | Programas de televisión a la carta - Entretenimiento - Series online - TV online. Amusing Spanish Idioms. See also Spanish Slang, Spanish Words & Phrases An idiom is a phrase that is understood to have a meaning different from its literal meaning.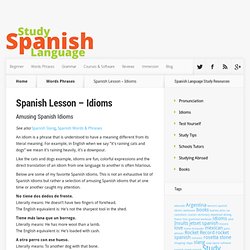 For example, in English when we say "it's raining cats and dogs" we mean it's raining heavily, it's a downpour. Spanish Idiom Dictionary. Spanish idioms are essential to understanding and communicating with native speakers.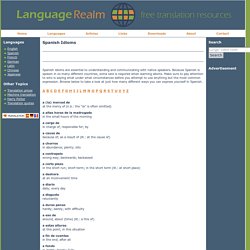 Because Spanish is spoken in so many different countries, extra care is required when learning idioms. Make sure to pay attention to who is saying what under what circumstances before you attempt to use anything but the most common expression. Browse below to take a look at just how many different ways you can express yourself in Spanish. Noticias última hora, programas y series de RTVE.
Wikipedia, la enciclopedia libre. EL PAÍS: el periódico global en español. Elmundo.es. Líder de información en español.
---