Recipies
When I went to Australia earlier this year, I overdosed on egg and bacon rolls. I sent an enthusiastic email to Grace about how I was enjoying recreating my own here at home, and she wrote me back that she is pretty much vegan these days. I was a bit crestfallen that my enthusiasm for bacon had fallen on deaf ears, but it got me to thinking whether I could ever make that transition.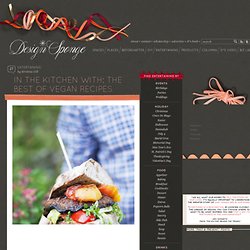 in the kitchen with: the best of vegan recipes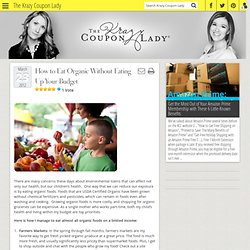 There are many concerns these days about environmental toxins that can affect not only our health, but our children's health. One way that we can reduce our exposure is by eating organic foods.
The Secret to Eating Organic Without Eating Up Your Budget
When You Haven't Been to the Store in Awhile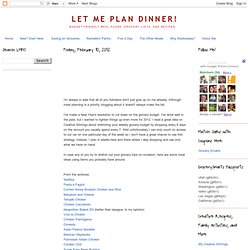 I'm always in awe that all of you followers don't just give up on me already. Although meal planning is a priority, blogging about it doesn't always make the list.
vegetables- non lettuce salads
cooked vegtables- sauteed, roasted, casseroles